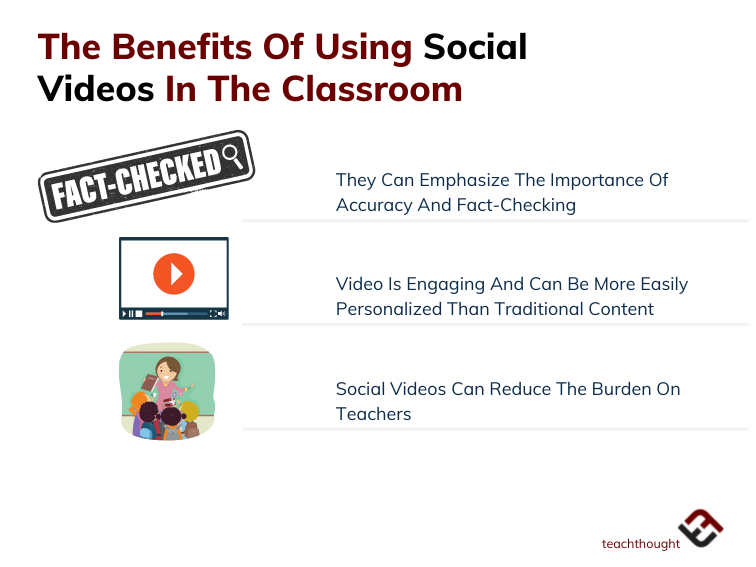 The Benefits Of Using Social Videos In The Classroom
contributed by Jorge Cauz, CEO of The Britannica Group
For many teachers around the world, re-engaging students after multiple school closures and lockdowns is set to be something of an uphill battle. While some children lacked reliable access to digital devices or adequate space in which to study at home, others confronted loss and grief at a young age. On top of this, all children have had to cope with the daily turbulence of living through a global pandemic.
With 'Achievement Gaps in the Wake of COVID-19' research (April 22, 2021, 2021 Drew H. Bailey, Greg J. Duncan, Richard J. Murnane, Natalie Au Yeung, Natalie Au Ye) finding that much of the progress made in reducing the achievement gap for disadvantaged children may have been reversed throughout lockdown, it's clear that the implications for education could be wide-reaching for generations of children to come. Similarly, teachers have also struggled to deal with fallout from the pandemic: a report in Education Week by Catherine Gewertz highlights how 'Teachers' Mental Health Has Suffered in the Pandemic.'
As both students and educators continue to grapple with this uncertain new landscape, what role might supplemental curriculum materials play in practically addressing some of these issues?
Distinguished from comprehensive 'core' curriculum and variously defined as "materials that provide more complete coverage of a subject in a course, address diverse learning needs, and support the use of technology in the classroom" or "those items used to extend and support instruction and address the needs of all learners," supplemental curricula can provide nimble, focused, and flexible tools that help teachers adapt to the often-changing circumstances they find themselves in.
See also Strategies For Using TikTok In The Classroom
They Can Emphasize The Importance Of Accuracy And Fact-Checking
It's been hard to avoid conspiracy theories during the pandemic, from 5G and microchips in vaccines to hydroxychloroquine. With the overload of COVID-19 related misinformation snowballing so severely that the World Health Organisation described it as an 'infodemic,' it's more important now than ever to ensure information is accurate and from trustworthy sources.
As a global knowledge leader that has been synonymous with reliable information since its first publication in 1768, Britannica has been dedicated to helping internet users both in and outside of the classroom to cut through the noise to find verified information. With the plethora of platforms in which curious knowledge seekers 'consume' content, we are continuously evaluating the venues in which we need to be present as well as the types of content and experiences we need to create to fit each one.
To this end, we've recently teamed up with YouTube to create information panels attached to videos and video searches that link to fact-checked backgrounder information in a bid to curb the waves of misleading content. Other useful initiatives are browser extensions (like ours) that freely fact-check content from any 'searched' content which filters out reliable, expert-based information.
But no one is better placed than teachers to dispel falsehoods, and this can only be achieved if they themselves are equipped with the tools they need to battle this 'infodemic.' With a 2019 study by the Thomas B. Fordham Institute that the majority of supplemental learning materials are lacking in quality, it's vital that curriculum-enhancing programs do just that – enhance, not detract.
See also Questions To Help Students Thinking Critically About The News
Video Is Engaging And Can Be More Easily Personalized Than Traditional Content
Teachers often report feeling pressured to compete for students' attention, as short, snappy Tweets or TikToks that often distract them from participating in classroom tasks or focussing on homework. But some of these platforms provide a great opportunity to fuel curiosity and create need-to-know moments that increase the use of reliable supplemental materials such as Britannica's. If supplemental material is to stand a chance against 15-second videos or constantly refreshing newsfeeds, it must be just as engaging, if not more so, to instill a true love of learning and spark curiosity in children.
Fortunately, short, fun videos can be used effectively to engage students for real learning, as we have found with our successful TikTok series.
Equally, it's crucial that supplemental learning material be agile and adaptable to each student's unique needs. The material must be digestible online, downloadable, even printable for students without access to reliable internet connections, and the content itself must accommodate students with varying reading and comprehension skills. Multimedia, 'read aloud' tools, and articles offered at various reading levels thus become essential, especially in environments where blended, distance learning, or independent instruction is the norm.
See also How To YouTube Your Classroom
Social Videos Can Reduce The Burden On Teachers
With teachers routinely spending 1-2 hours each night preparing for the next day's lessons, many are frustrated by the time-consuming nature of searching for curriculum-related text and multimedia material from reliable sources.
Pre-curated content that is classroom-ready massively cuts down on teachers' already burdensome workloads, freeing them up to do what they do best: teach.
After nearly a year of struggling to meet the demands of teaching during the coronavirus crisis, a troubling report by CNBC revealed that nearly one in three educators (27 percent) say they are ready to switch careers or retire. Colin Sharkey, executive director of the Association of American Educators, explained that, "The demands that are put on them are off the charts." The challenge is, however, that in order for schools to fully reopen, the U.S. needs more teachers, not fewer.
It's for this reason that Britannica created easily digestible 'LaunchPacks,' where content tied to the teaching topic of the moment can easily be delivered to the student and augmented by the teacher for engaging and unique assessments. The teaching profession needs urgent relief from its role as the 'fourth emergency service,' and any resource that can help to achieve this through streamlining workloads is essential.
Clearly, supplemental learning is a small, but vital, cog in the wider educational system. As teachers around the world continue to respond to the demands and consequences of the pandemic with remarkable agility and resilience, it should play a key part in educational recovery going forward.
Jorge Cauz, CEO of The Britannica Group (home to Encyclopaedia Britannica), explores the multifaceted role supplemental learning can play in the classroom; from boosting engagement and bridging the attainment gap, to tackling staff wellbeing and the teacher retention crisis.