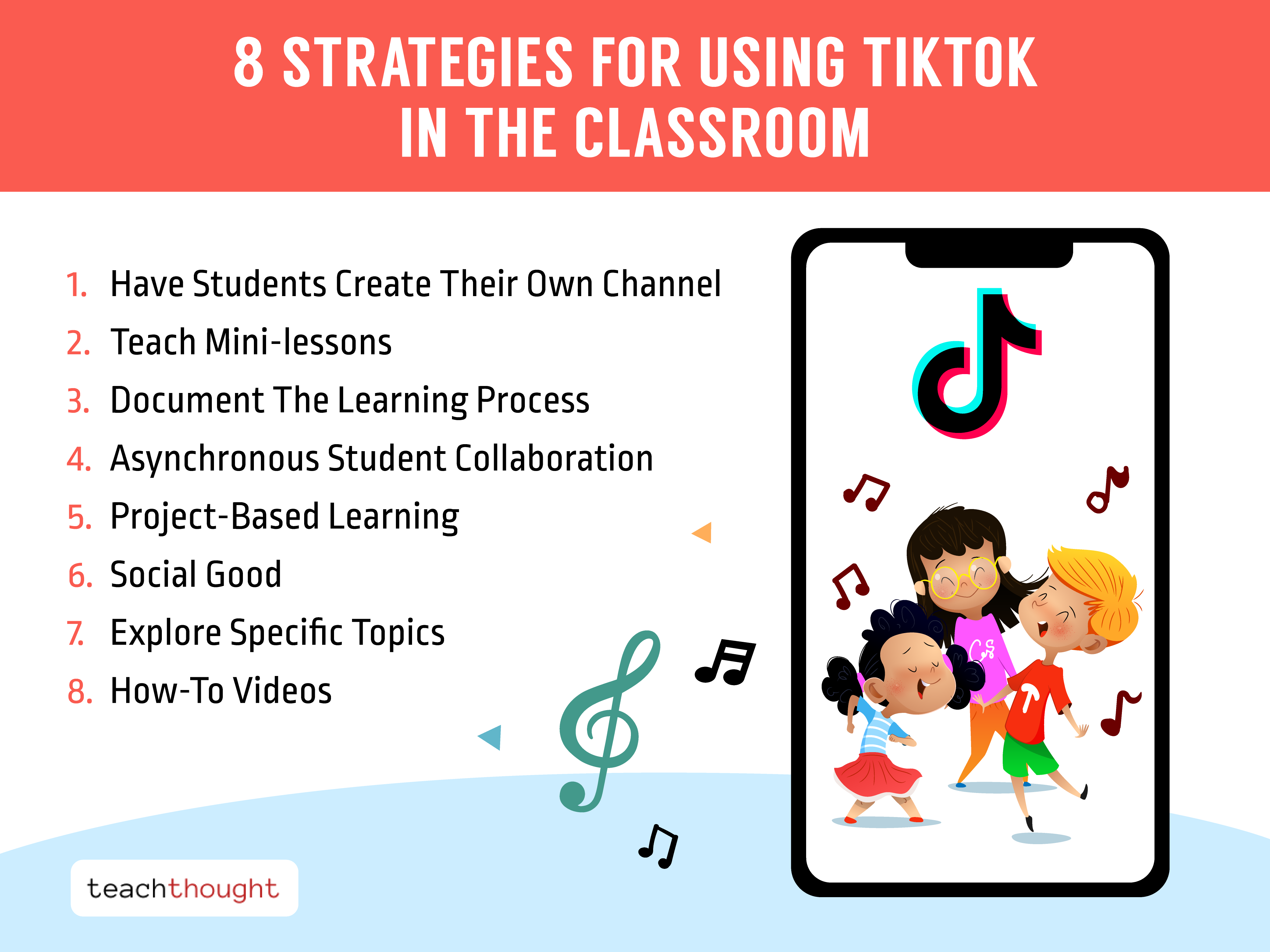 How Can You Use TikTok For Learning?
by Terry Heick
Whether or not you consider TikTok useful for learning likely depends on your grade level and content area, but also your personal philosophy.
In the same way that teaching with video games, teaching with hip-hop might be 'controversial,' so is teaching with what, on the surface, seems to be a superficial, digital distraction.
But if you think of it in its parts (video, social interactions, scalable digital media) and effects (many students love it), it's not such a stretch. In fact, Fast Company has even called it the 'future of education.' Even if that turns out to be hyperbole, the lessons of video and social interactions and digital media themselves are difficult to bet against as part of that future.
Can You Use TikTok In The Classroom?
So why specifically should you consider using TikTok for learning?
For starters, they have a 'Joy Of Learning' campaign, explaining, "The joy of learning on TikTok is that the content offers instructional tips and takeaways in a creative format, teaching something useful and inspiring users to seek out more information in a way that is fun and engaging. Our community has been drawn to videos that highlight unique science experiments, useful life hacks, creative math tricks, easy DIY projects, and motivational messages and advice. With our Creative Learning Fund, we're continuing to nurture creators and partnerships that support this type of content on the platform."
Another example of how social video can be used in the classroom is #edutokxcampus, with TikTok explaining, "The college events comprised of panel discussions with celebrities and homegrown #EduTok creators to discuss and enlighten the positive use of short video apps such as TikTok and how #EduTok can enable students with tips and tricks across education, health, fitness, beauty, motivation and many other categories. The panel discussions touched upon how celebrities are using #EduTok effectively to share information across themes and how platforms like TikTok are encouraging users to explore their passion and nurture careers as digital entrepreneurs. The #EduTokXCampus initiative aims to support independent creators and encourage students to come forward with interesting and innovative educational content."
Finally, TikTok also has 'Digital Wellbeing' and 'Family Sharing' features that allow parents (or teachers in certain contexts) to set screen limit times, limit content unsuitable for minors, manage privacy settings, and set accounts to public or private.
Should Teachers Use TikTok?
I personally don't but only because I over-indulged in its whimsy and am wary of 'influencers' (a fair criticism of TikTok and any other digital platform). However, three of my children do and constantly send me videos that are charming, loving, creative, and funny. As with YouTube, it's all about the quality of the curation. These videos are short, easy to make, and empower content creators–or those willing to work at it, anyway.
YouTube is an extraordinary teaching resource (Something I wrote about years ago in How To Make Your Classroom Work Like YouTube), and as a microvideo platform, so is TikTok.
Using TikTok For Educational Purposes
Also, whenever I bring up an app that isn't COPPA Compliant, district-filtered, and 'standards-based,' I get pushback about its application for learning and criticism for being 'unsafe' for children. Obviously, safety, privacy, and data concerns are always valid–with TikTok or anything else students use inside and outside of the classroom. It's (also very obviously) up to each teacher to decide what's best for their students in their specific contexts.
This means knowing laws, school and district policies, student and parent concerns, and a dozen other factors. This is part of what makes teaching difficult–especially teaching for and through innovation. Each of the ideas below has countless implied and important caveats and conditions for it to be used well for learning. However, it's really not as difficult as it seems for most teachers to navigate these barriers and use this app (and many others) in their classroom.
So below are eight ways to use TikTok in your classroom (or for homeschooling as well).
1. Have Students Create Their Own Channel
Having students create a 'channel' and creating content for it is probably my second favorite idea here (these aren't in 'my favorites' order). Pick a topic for them, with them, let them choose from a list you create, or have them pitch ideas to you, decide on a basic format for the video, evaluate the quality of what they create at first, and make adjustments as you go.
They could even simply summarize key takeaways each day from your classroom or respond to exit slips in video format.
2. Teach Mini-lessons
An example? @Iamthatenglishteacher uses it to teach grammar and has millions of followers.
You could also use it as a quick review of each day's lesson for absent students or review at home.
3. Document The Learning Process
Microvideos lend themselves well to digital portfolios–an ongoing collection of learning 'moments' and artifacts from the learning process. So, have students do this themselves.
4. Asynchronous Student Collaboration
Call and response, PBL, homework help, short 'explainer' videos to explain topics/work together, and more. If there's a way students need to work together through asynchronous learning, a video platform can help. Also, consider Ideas For Using Flip here as it's much easier to manage this kind of collaboration.
5. TikTok For Project-Based Learning
Video and project-based learning classrooms might be a match made in pedagogical heaven–or at least #edtech heaven.
Platforms like TikTok can help students identify project ideas, collaborate during the learning process, document that process, or curate and share any products or results of their project.
As a philosophy, PBL promotes real-world skills, and in this digital age, that includes technological competency. Video promises to hold a place of prominence in today's classroom by helping students document, analyze and present what they have learned, just as they might in an office someday. TikTok specifically is easy to use draws upon students' technical and creative skills. It is designed for constant engagement (for better or for worse), and that alone makes it a powerful learning resource.
Perhaps it is no surprise, then, that PBL teachers have already begun to put TikTok to work in their classrooms and inspire students in a way lectures and PowerPoints never could.
According to their support page, using TikTok for Good, TikTok wants to "inspire and encourage a new generation to have a positive impact on the planet and those around them. Check out some organizations that have used TikTok to grow their audience, activate supporters, and raise awareness around specific causes.
7. Explore Specific Topics
Under 'Discover,' students can scroll specific topics through the use of hashtags. Alternatively, you could create your own hashtag and curate a collection yourself for 'quality control.'
Trending TikTok Hashtags
Possible TikTok hashtags for learning include #edutok, #learnontiktok #creativity, #creativityforgood, #edutokxcampus, #bucketlist, #createkindness, #tiktokart, #tiktokphotography, #mathematics, #poetry, and #tiktokpoetry.
You can read more about #learnontiktok (whose contributors include Bill Nye and Neil deGrasse Tyson) here.
8. How-To Videos
With its easy to use video editor (it really is almost effortless), TikTok is perfect for short, how-to videos, whether students are watching them or making them.