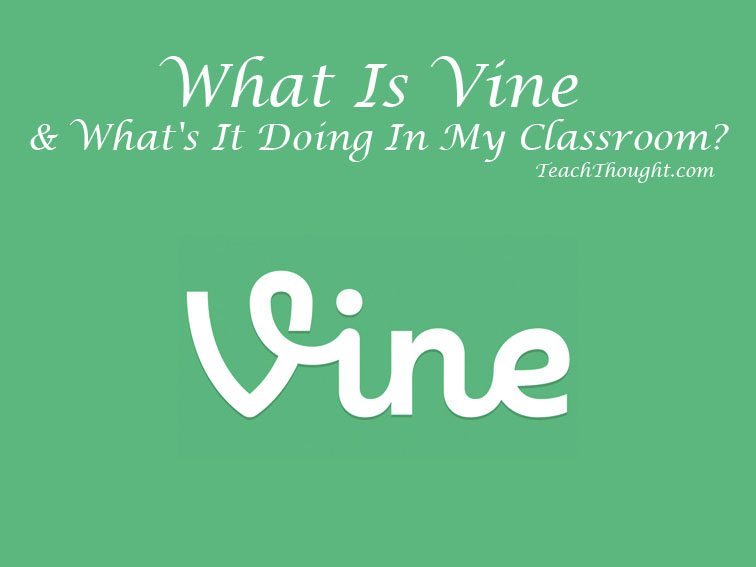 What Is Vine And What's It Doing In My Classroom?
When Twitter was first introduced in 2006, many were skeptical about its usefulness. What was the point of a medium that only let you type out 140 characters?
It wasn't expected to last, but it did. Seemingly overnight, Twitter went from a barely known startup to one of the most popular and widely used sites on the web. Today, the site has more than 500 million users posting more than 340 million tweets a day and is used by everyone from small-business owners to NASA astronauts.
Education hasn't gone unscathed by the sweeping changes Twitter has exacted on social media. Few colleges are without a Twitter account today, with the service allowing deans, admissions officers, and PR reps alike to connect with current and prospective students. Far more transformative, however, has been Twitter's role in the classroom itself, providing a medium for students and their professors to connect through short but meaningful snippets of information.
Like all services, Twitter is aiming to evolve to better serve the needs of users and keep up with the competition. Its newest service, the video-sharing app Vine, hasn't had much time to become a classroom staple like Twitter, but that doesn't mean that it doesn't have the potential to be a useful and innovative tool in the classroom, too. In fact, many educators might not even be aware that Vine exists or understand what it has to offer the classroom experience.
What Is Vine?
Vine, a mobile app acquired by Twitter in 2012, allows users to create and share short video clips. Like Twitter, brevity is valued and video clips can't exceed six seconds in length, so users have to be quick about getting their point across. Vine is a pretty new addition to the social media canon. The service was founded in June of 2012, but just launched to the public in January of 2013 as a free app on the iPhone and iPod Touch. While only Apple users can currently enjoy Vine, development for other platforms is in progress and is likely to launch sometime later this year.
Like many new apps, Vine is enduring some growing pains. Due to a deluge of racy content, Vine was forced to raise the age limit to download the app from 12 to 17 early in February. Additionally, service interruptions plagued the app in late January, causing some to question its readiness for launch. Still, despite the hurdles, Vine has seen amazing growth in just a few months' time, with users tweeting an average of 2,300 Vine videos every hour.
The response to Vine, much like Twitter, has been mixed. Some believe it will become a popular and useful social media tool, while others don't think much can really be done with just six seconds. Whatever limitations it may have, however, Vine has quickly caught on in a wide range of fields, including journalism and marketing, and is receiving a fair amount of attention in education as well.
Why Vine Is Special
So why should you care about Vine when there are already dozens of other social media tools out there? Because Vine has the potential to be a pretty useful and special medium.
Just like Twitter, Vine imposes limitations on how much content users can generate. While this might seem constricting at first, if Twitter has proven anything it's that it's easy to say a lot with very little. Limitations, in this way, aren't always a bad thing. In fact, the constraints may actually force users to get to the point more quickly and to be more creative and innovative about how they present their content.
Even though Vine has only been available for a few months, people are already using the application in a wide range of creative ways. This bodes well for its staying power and the future role Vine may play in all aspects of social media communication. It also shows how diverse a simple, six-second piece of media can really be, as everyone from Paul McCartney to Cadbury have begun using it to connect through ideas and experiences. It's the combination of the simplicity and the social aspects of Vine that may just lead it to be a serious force going forward in education and beyond.
Vine's Potential in Education
Currently, Vine is primarily being used to advertise and for personal projects, but that doesn't mean that it isn't suited for others uses, including education. Professors could potentially use the app to improve and enrich the existing dialogue they have with students over Twitter. It could also be a great way to showcase fundamentals concepts from class, display work, or send out messages for students, especially in a flipped classroom or online setting. And it's not just educators who can use it; students can get on Vine to communicate with their teachers as well.
Some professors have already embraced Vine in the classroom as another helpful social media tool, including William Ward, a professor of social media at the Syracuse University S.I. Newhouse School of Public Communication. Since its launch, Ward has brought Vine into his social media classes in a variety of ways.
"Hands-on experiential learning is the catalyst for creativity and innovation, says Ward. "It teaches students not to be afraid to experiment and learn from trial and error. Once students got over the fear of making a mistake, they had fun experimenting, creating their Vines, and see the responses of their classmates and even industry professionals."
Ward believes that Vine has the potential to be a significant social media tool that may even make short form videos as popular as photos but says that it remains to be seen whether or not the technology will last or will be just another passing fad.
Demo of How to Use Vine in the Classroom
Looking to learn how to use Vine and get a better idea of how to use it in the classroom? Dr. Justin Marquis, a professor of educational technology, offers his take on Vine's use in the higher education classroom in this informative video for educators.
Tips, Tools, and How-tos for Getting the Most Out of Vine
Is your interest about Vine piqued yet? Here, you'll find some basic tutorials, tips, and informational reading that can help you start using Vine like a pro.
Basic Tutorials
If you're not familiar with the basics of using Vine, use one of these great tutorials to get started.
Tips for Using Vine
Not sure how to begin your Vine explorations? Here are some tips to get you creating, sharing, and loving Vine.
Helpful Reading Material
If you're looking for additional advice about how to use or get the most out of Vine, these articles offer some insights that can ensure you're not missing anything when you create your own six-second masterpieces.
Vine is still a relatively new product, but don't let that hold you back from giving it a try in the classroom. You may just find that it offers new and unique ways to get students engaged, teach them about social media, and get them thinking about whatever topic you're trying to teach.