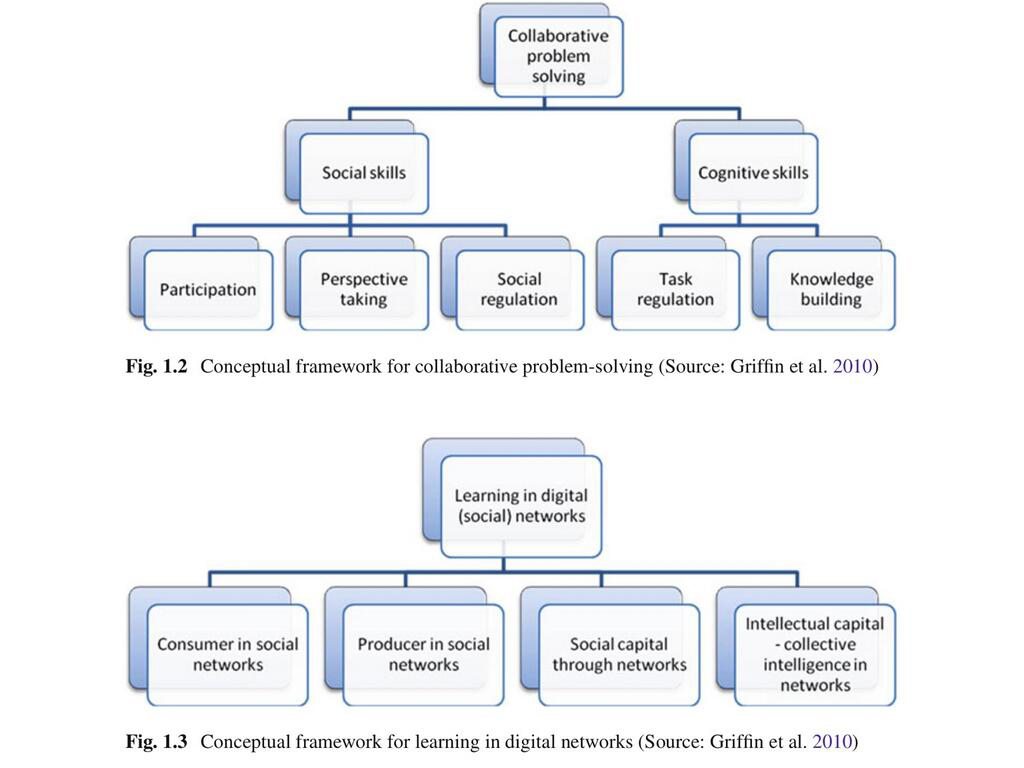 Learning In Digital Networks: A Framework
by Terry Heick
Though the constant updates can be annoying as twitter just to iterate itself towards monetization and permanent relevancy in a finicky digital landscape, among the changes I like is the ability to embed images. Other channels like tumblr have always had this, but not so with twitter. So when Sam Boswell tweeted the image above–being the right-brain idiot that I am–I clicked, and there was much irony in what I saw. A conceptual framework for learning in digital networks! (Get it? I was learning about digital networks on a digital network? Tough crowd.)
Collaborative problem-solving is a nuanced process that folds overlapping concepts and competencies together–social interaction and knowledge building. This applies to formal training through eLearning or adaptive platforms, or informal participation in social networks (e.g., twitter).
We've talked before about learning through social networks. The image is an artifact from a 2010 study by Patrick Griffin from the University of Melbourne in Australia. One thing that makes it interesting is the way it distinguishes between collaboration in problem-solving and learning in digital networks rather than simply making collaborative problem-solving a characteristic of learning in digital networks.
As a concept map it is basic, focused on clarity and big ideas, including skills (social and cognitive), roles (consuming and producing), and capital (social and intellectual). This framework is useful if you're trying to make sense of how people learning together online, which has utility in K-12, post-secondary, self-directed learning, and even professional training. The idea of intellectual capital is what drives crowdsourced knowledge banks like Wikipedia, iTunesU, and even YouTube.
Ideally, these frameworks would probably be considered separately. As you design learning experiences for your students, you might consider the "collaborative problem-solving" framework to guide your design of project-based learning or challenge-based learning assignments.
Conceptual Framework For Collaborative Problem-Solving
Participation [Social Skills]
Perspective Taking [Social Skills]
Social Regulation [Social Skills]
Task Regulation [Cognitive Skills]
Knowledge Building [Cognitive Skills]
Conceptual Framework For Learning In Digital Networks
Consumer in social networks [Learning in Digital Social Networks]
Producer in social networks [Learning in Digital Social Networks]
Social capital through networks [Learning in Digital Social Networks]
Intellectual capital–collective intelligence in networks [Learning in Digital Social Networks]
A Framework For Learning In Digital Networks