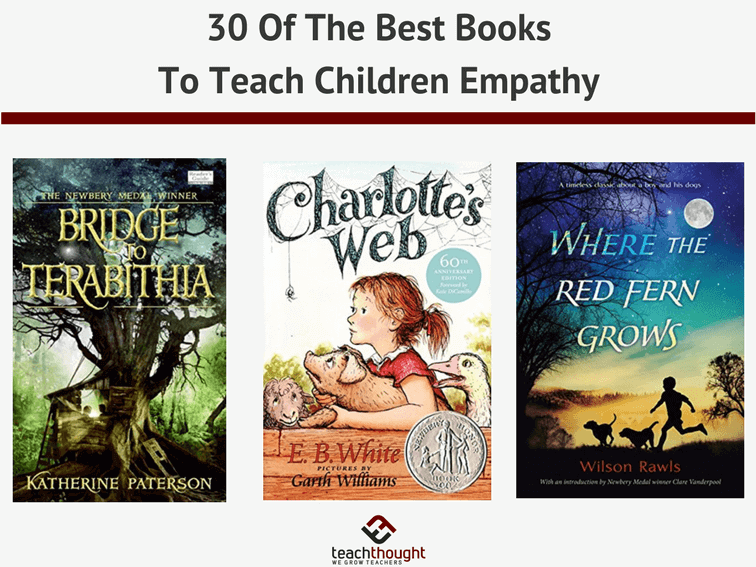 What Are The Best Books To Teach Children Empathy?
by TeachThought Staff
Often confused with sympathy and compassion, empathy is, put simply, the ability to feel what another person is feeling. Unlike sympathy or compassion, empathy doesn't require you to feel for them, though it can lead to those emotions. Empathy, rather, is a starting point for understanding both ourselves and other people from the inside out.
The point is that there's an important difference between empathy and sympathy.
In How To Teach Empathy, Terry Heick said that "empathy is both a cause and effect of understanding, a kind of cognitive and emotional double helix that can create a bridge between classroom learning and 'real-life' application."
Since storytelling is such a powerful tool to communicate the human condition, we've created a list of 30 stories that do exactly that. Each of the following books in the collection we've created below was selected for the ability to provide an especially apt demonstration of, or opportunity to learn, empathy.
Most of the books are useful to teach empathy to almost any student of any age. In fact, it could be argued that a student doesn't need a story at all–music, the news, art, film, YouTube videos, and other media forms are also useful here. It's also true that they don't necessarily need an 'empathy story.'
Most literature, by design, promotes empathy with characters in stories, especially when told through a first-person narrator. Still, a book created expressly to showcase empathy can be an even more precise teaching tool. Though the list below tends towards K-8, there are many that would work well in a high school classroom as well.
The following links may be affiliate links. You can read more about our affiliate policy here.
Going to school and making new friends can be tough. But going to school and making new friends while wearing a bulky hearing aid strapped to your chest? That requires superpowers! In this funny, poignant graphic novel memoir, author/illustrator Cece Bell chronicles her hearing loss at a young age and her subsequent experiences with the Phonic Ear, a very powerful—and very awkward—hearing aid.
The Phonic Ear gives Cece the ability to hear—sometimes things she shouldn't—but also isolates her from her classmates. She really just wants to fit in and find a true friend, someone who appreciates her as she is. After some trouble, she is finally able to harness the power of the Phonic Ear and become "El Deafo, Listener for All." And more importantly, declare a place for herself in the world and find the friend she's longed for.
August Pullman was born with a facial difference that, up until now, has prevented him from going to a mainstream school. Starting 5th grade at Beecher Prep, he wants nothing more than to be treated as an ordinary kid—but his new classmates can't get past Auggie's extraordinary face. Wonder, now a #1 New York Times bestseller and included on the Texas Bluebonnet Award master list, begins from Auggie's point of view, but soon switches to include his classmates, his sister, her boyfriend, and others. These perspectives converge in a portrait of one community's struggle with empathy, compassion, and acceptance.
The author of the beloved One for the Murphys gives readers an emotionally-charged, uplifting novel that will speak to anyone who's ever thought there was something wrong with them because they didn't fit in. "Everybody is smart in different ways. But if you judge a fish by its ability to climb a tree, it will live its life believing it is stupid."
4. 365 Days of Wonder: Mr. Browne's Precepts
n Wonder, readers were introduced to memorable English teacher Mr. Browne and his love of precepts. This companion book features conversations between Mr. Browne and Auggie, Julian, Summer, Jack Will, and others, giving readers a special peek at their lives after Wonder ends. Mr. Browne's essays and correspondence are rounded out by a precept for each day of the year—drawn from popular songs to children's books to inscriptions on Egyptian tombstones to fortune cookies.
Having spent twenty-seven years behind the glass walls of his enclosure in a shopping mall, Ivan has grown accustomed to humans watching him. He hardly ever thinks about his life in the jungle. Instead, Ivan occupies himself with television, his friends Stella and Bob, and painting. But when he meets Ruby, a baby elephant taken from the wild, he is forced to see their home, and his art, through new eyes.
See also 10 Team-Building Games For A Friendlier Classroom
With honesty and humor, the main characters bridge the miles between them, creating a friendship that inspires bravery and defeats cultural misconceptions. Narrated in two voices, each voice distinctly articulated by a separate gifted author, this chronicle of two lives powerfully conveys the great value of being and having a friend and the joys of opening our lives to others who live beneath the same sun.
Inside Out and Back Again is a New York Times bestseller, a Newbery Honor Book, and a winner of the National Book Award! Inspired by the author's childhood experience of fleeing Vietnam after the Fall of Saigon and immigrating to Alabama, this coming-of-age debut novel told in verse has been celebrated for its touching child's-eye view of family and immigration.
8. Sunborn Rising: Beneath the Fall
Cerulean is on the brink of collapse. The decay wasn't fast, it wasn't obvious, but now the world stands on the precipice. Woven forests floating on an ocean around a star, Cerulean's once vibrant treescape has grown dim over generations of arboreal life, and the creatures of the forest have forgotten the light.
9. The Family Under the Bridge
This is the delightfully warm and enjoyable story of an old Parisian named Armand, who relished his solitary life. Children, he said, were like starlings, and one was better off without them. But the children who lived under the bridge recognized a true friend when they met one, even if the friend seemed a trifle unwilling at the start. And it did not take Armand very long to realize that he had gotten himself ready-made family; one that he loved with all his heart, and one for whom he would have to find a better home than the bridge.
Life carried on for the community of Port William, Kentucky, as some boys returned from the war and the lives of others were mourned. In her seventies, Nathan's wife, Hannah, has time now to tell of the years since the war. In Wendell Berry's unforgettable prose, we learn of the Coulter's children, of the Feltners and Branches, and how survivors "live right on."
Raised in South Carolina and New York, Woodson always felt halfway home in each place. In vivid poems, she shares what it was like to grow up as an African American in the 1960s and 1970s, living with the remnants of Jim Crow and her growing awareness of the Civil Rights movement. Touching and powerful, each poem is both accessible and emotionally charged, each line a glimpse into a child's soul as she searches for her place in the world.
12. Island of the Blue Dolphins
'Island of the Blue Dolphins' is an adventure of the spirit that will haunt the reader long after the book has been put down. Karana's quiet courage, her Indian self-reliance and acceptance of fate, transform what to many would have been a devastating ordeal into an uplifting experience. From loneliness and terror come strength and serenity in this Newbery Medal-winning classic.
Jayber Crow, born in Goforth, Kentucky, orphaned at age ten, began his search as a "pre-ministerial student" at Pigeonville College. "You have been given questions to which you cannot be given answers. You will have to live them out—perhaps a little at a time."
Little Man throws the meanest fastball in town. But talking is a whole different ball game. He can barely say a word without stuttering—not even his own name. So when he takes over his best friend's paper route for the month of July, he's not exactly looking forward to interacting with the customers. But it's the neighborhood junkman, a bully and thief, who stirs up real trouble in Little Man's life.
15. The Boy on the Wooden Box: How the Impossible Became Possible
This, the only memoir published by a former Schindler's list child, perfectly captures the innocence of a small boy who goes through the unthinkable. Leon Leyson (born Leib Lezjon) was only ten years old when the Nazis invaded Poland and his family was forced to relocate to the Krakow ghetto. With incredible luck, perseverance, and grit, Leyson was able to survive the sadism of the Nazis, including that of the demonic Amon Goeth, commandant of Plaszow, the concentration camp outside Krakow.
16. Night (Night)
Night is Elie Wiesel's masterpiece, a candid, horrific, and deeply poignant autobiographical account of his survival as a teenager in the Nazi death camps. This new translation by Marion Wiesel, Elie's wife and frequent translator, presents this seminal memoir in the language and spirit truest to the author's original intent. And in a substantive new preface, Elie reflects on the enduring importance of Night and his lifelong, passionate dedication to ensuring that the world never forgets man's capacity for inhumanity to man.
In the town of Placid, Wisconsin, in 1871, Georgie Burkhardt is known for two things: her uncanny aim with a rifle and her habit of speaking her mind plainly. But when Georgie blurts out something she shouldn't, her older sister Agatha flees, running off with a pack of "pigeoners" trailing the passenger pigeon migration. And when the sheriff returns to town with an unidentifiable body—wearing Agatha's blue-green ball gown—everyone assumes the worst. Except Georgie.
18. Tasting the Sky: A Palestinian Childhood
In this groundbreaking memoir set in Ramallah during the aftermath of the 1967 Six-Day War, Ibtisam Barakat captures what it is like to be a child whose world is shattered by war. With candor and courage, she stitches together memories of her childhood: fear and confusion as bombs explode near her home and she is separated from her family; the harshness of life as a Palestinian refugee.
19. Persepolis: The Story of a Childhood (Pantheon Graphic Novels)
Wise, funny, and heartbreaking, Persepolis is Marjane Satrapi's memoir of growing up in Iran during the Islamic Revolution. In powerful black-and-white comic strip images, Satrapi tells the story of her life in Tehran from ages six to fourteen, years that saw the overthrow of the Shah's regime, the triumph of the Islamic Revolution, and the devastating effects of war with Iraq. The intelligent and outspoken only child of committed Marxists and the great-granddaughter of one of Iran's last emperors, Marjane bears witness to a childhood uniquely entwined with the history of her country.
Billy has long dreamt of owning not one, but two, dogs. So when he's finally able to save up enough money for two pups to call his own, he's ecstatic. It doesn't matter that times are tough; together they'll roam the hills of the Ozarks. Soon Billy and his hounds become the finest hunting team in the valley. Stories of their great achievements spread throughout the region. But tragedy awaits these determined hunters—now friends—and Billy learns that hope can grow out of despair, and that the seeds of the future can come from the scars of the past
21. My Side of the Moutain (Puffin Modern Classics)
Terribly unhappy in his family's crowded New York City apartment, Sam Gribley runs away to the solitude-and danger-of the mountains, where he finds a side of himself he never knew.
22. I Hadn't Meant Tell You This
Twelve-year-old Marie is a leader among the popular black girls in Chauncey, Ohio, a prosperous black suburb. She isn't looking for a friend when Lena Bright, a white girl, appears in school. Yet they are drawn to each other because both have lost their mothers. And they know how to keep a secret. For Lena has a secret that is terrifying, and she's desperate to protect herself and her younger sister from their father. Marie must decide whether she can help Lena by keeping her secret–or by telling it.
23. The Breadwinner
The first book in Deborah Ellis's riveting Breadwinner series is an award-winning novel about loyalty, survival, families, and friendship under extraordinary circumstances during the Taliban's rule in Afghanistan.
24. Out of My Mind
Melody is not like most people. She cannot walk or talk, but she has a photographic memory; she can remember every detail of everything she has ever experienced. She is smarter than most of the adults who try to diagnose her and smarter than her classmates in her integrated classroom—the very same classmates who dismiss her as mentally challenged, because she cannot tell them otherwise. But Melody refuses to be defined by cerebral palsy. And she's determined to let everyone know it–somehow.
Melody is not like most people. She cannot walk or talk, but she has a photographic memory; she can remember every detail of everything she has ever experienced. She is smarter than most of the adults who try to diagnose her and smarter than her classmates in her integrated classroom—the very same classmates who dismiss her as mentally challenged, because she cannot tell them otherwise. But Melody refuses to be defined by cerebral palsy. And she's determined to let everyone know it–somehow.
26. A Long Walk to Water: Based on a True Story
The New York Times bestseller A Long Walk to Water begins as two stories, told in alternating sections, about two eleven-year-olds in Sudan, a girl in 2008 and a boy in 1985. The girl, Nya, is fetching water from a pond that is two hours' walk from her home: she makes two trips to the pond every day. Enduring every hardship from loneliness to attack by armed rebels to contact with killer lions and crocodiles, Salva is a survivor, and his story goes on to intersect with Nya's in an astonishing and moving way.
27. They Poured Fire on Us From the Sky: The True Story of Three Lost Boys from Sudan
They Poured Fire on Us from the Sky is the three boys' account of that unimaginable journey. With the candor and the purity of their child's-eye-vision, Alephonsian, Benjamin, and Benson recall by turns: how they endured the hunger and strength-sapping illnesses—dysentery, malaria, and yellow fever; how they dodged the life-threatening predators—lions, snakes, crocodiles and soldiers alike—that dogged their footsteps; and how they grappled with a war that threatened continually to overwhelm them.
28. The Wall (Reading Rainbow Books)
A boy and his father have come to the Vietnam War Memorial to look for the boy's grandfather's name among those who were killed in the war. They find his name surrounded, but far from lost, in the rows of print that "march side by side, like rows of soldiers." "I'm proud that your grandfather's name is on this wall," says the boy's father. The boy agrees, adding, "but I'd rather have my grandpa here."
Jess Aarons has been practicing all summer so he can be the fastest runner in the fifth grade. And he almost is, until the new girl in school, Leslie Burke, outpaces him. The two become fast friends and spend most days in the woods behind Leslie's house, where they invent an enchanted land called Terabithia. One morning, Leslie goes to Terabithia without Jess and a tragedy occurs. It will take the love of his family and the strength that Leslie has given him for Jess to be able to deal with his grief.
30. Charlotte's Web
E. B. White's Newbery Honor Book is a tender novel of friendship, love, life, and death that will continue to be enjoyed by generations to come. It contains illustrations by Garth Williams, the acclaimed illustrator of E.B. White's Stuart Little and Laura Ingalls Wilder's Little House series, among many other books.
Other Books To Teach Children Empathy
30 Of The Best Books To Teach Children Empathy