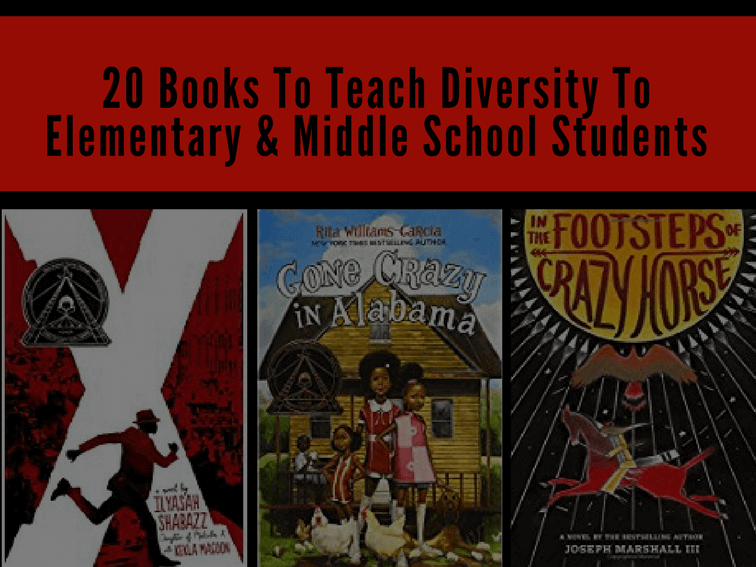 A Collection Of Books For Teaching Diversity To Elementary & Middle School Students
by TeachThought Staff
Teaching complex and nuanced subjects through novels makes sense, if for no other reason than complex and nuanced topics are why many novels exist.
A good book either gives readers the opportunity to see through the eyes of another — allowing them to slip into a life, place, and experiences they wouldn't otherwise have — or the gift of recognizing bits and pieces of themselves in the characters within, and the comfort and sense of belonging that comes with understanding that so many human struggles are universal.
George Eliot said, "The only effect I ardently long to produce by my writings, is that those who read them should be better able to imagine and to feel the pains and the joys of those who differ from them in everything but the broad fact of being struggling, erring human creatures."
See also 30 Of The Best Books To Teach Children Empathy
More simply put, literature is an excellent vehicle for demonstrating empathy and diversity in an impactful way. Both can be difficult to teach, and yet our current cultural conversation makes it clear that there's a need to bring greater understanding and context to these concepts that are such an integral part of community, and in a broader sense, humanity.
As Terry Heick said in How To Teach Empathy:
"In your classroom, there are dozens of natural sources of empathy. But what about authenticity? There's nothing worse than 'schoolifying' something a child actually needs to know. So much of great teaching is about packaging content so that students recognize it as something they need to know and can actually use, rather than something to do because I said so and you don't want a zero do you?"
Books manage to do exactly that — students aren't instructed, or even expected, to feel a certain way about a character or situation but the art of storytelling allows an appreciation of others, their perspective, and experiences to develop in a more natural sense.
The San Francisco Public Library put together the following list of the books that represent diversity to encourage students to recognize that despite our differences, we're all also very much the same.
23 Books To Teach Diversity To Elementary & Middle School Students
The following links are affiliate links. You can read more about our affiliate policy here.
Just savor these bouquets of babies—cocoa-brown, cinnamon, peaches and cream. As they grow, their clever skin does too, enjoying hugs and tickles, protecting them inside and out, and making them one of a kind.
Fran Manushkin's rollicking text and Lauren Tobia's delicious illustrations paint a breezy and irresistible picture of the human family—and how wonderful it is to be just who you are.
SFPL Summary: Grades: Preschool – K. Age Range: 2-5. Depicts families of different colors and orientations as they play at a park, swim, and celebrate at a block party.
2. One Family
From veteran picture book author George Shannon and up-and-coming artist Blanca Gomez comes a playful, interactive book that shows how a family can be big or small and comprised of people of a range of genders and races.
SFPL Summary: Grades: Preschool – 2. Age Range: 4 – 8. "One is one and everyone. One earth. One world. One family." Celebrates families of different sizes, ages, races, and genders in a story that introduces numbered groups from one to ten.
Same Sun Here Summary: Pen pals Meena and River have a lot in common: fathers forced to work away from home to make ends meet, grandmothers who mean the world to them, and faithful dogs. But Meena is an Indian immigrant girl living in New York City's Chinatown, while River is a Kentucky coal miner's son. With honesty and humor, Meena and River (each voice distinctly articulated by a separate gifted author) bridge the miles between them, creating a friendship that inspires bravery and defeats cultural misconceptions.
Juna and her best friend, Hector, have many adventures together, and they love to collect things in empty kimchi jars. Then one day, Hector unexpectedly moves away without having a chance to say good-bye. Juna is heartbroken and left to wonder who will on go on adventures with her.
Determined to find Hector, Juna turns to her special kimchi jar for help each night. She plunges into the depths of the ocean, swings on vines through the jungle, and flies through the night sky in search of her friend.
SFPL Summary: Grades: Preschool – 2. Age range: 5-9. After her best friend, Hector, moves away, Juna's tries to feel better by finding things to put in her special kimchi jar, and each night, whatever is in the jar takes her on a magical journey in search of Hector.
Sophia tries varied techniques to get the giraffe she wants more than anything in this playfully illustrated story about the nuances of negotiation.
SFPL Summary: Grades: Preschool-3. Age range: 4-8. All Sophie wants for her birthday is a pet giraffe, but as she tries to convince different members of her rather complicated family to support her cause.
Every Sunday after church, CJ and his grandma ride the bus across town. But today, CJ wonders why they don't own a car like his friend Colby. Why doesn't he have an iPod like the boys on the bus? How come they always have to get off in the dirty part of town? Each question is met with an encouraging answer from grandma, who helps him see the beauty—and fun—in their routine and the world around them.
SFPL Summary: Grades: K-2. Age range: 3-5. A young boy, CJ, rides the bus across town with his grandmother and learns to appreciate the beauty in everyday things.
Born in Ghana, West Africa, with one deformed leg, he was dismissed by most people—but not by his mother, who taught him to reach for his dreams. As a boy, Emmanuel hopped to school more than two miles each way, learned to play soccer, left home at age thirteen to provide for his family, and, eventually, became a cyclist.
He rode an astonishing four hundred miles across Ghana in 2001, spreading his powerful message: disability is not inability. Today, Emmanuel continues to work on behalf of the disabled.
SFPL Summary: Grades: K-2. Age range: 4-8. A biography of Emmanuel Ofosu Yeboah, a West African youth who pursued an education, helped support his family, and became a record-setting cyclist in spite of a disability.
Mia's abuela has left her sunny house with parrots and palm trees to live with Mia and her parents in the city. The night she arrives, Mia tries to share her favorite book with Abuela before they go to sleep and discovers that Abuela can't read the words inside. An endearing tale from an award-winning duo that speaks loud and clear about learning new things and the love that bonds family members.
SFPL Summary: Grades: K-3. Age range: 5-8. When a little girl's far-away grandmother comes to stay, love and patience transcend language in a tender story.
9. I'm New Here
Three students are immigrants from Guatemala, Korea, and Somalia and have trouble speaking, writing, and sharing ideas in English in their new American elementary school. Through self-determination and with encouragement from their peers and teachers, the students learn to feel confident and comfortable in their new school without losing a sense of their home country, language, and identity.
SFPL Summary: Grades: K-3. Age range: 5-8. Three children from other countries (Somalia, Guatemala, and Korea) struggle to adjust to their new home and school in the United States, but with happy results.
After Saya's mother is sent to an immigration detention center, Saya finds comfort in listening to her mother's warm greeting on their answering machine. To ease the distance between them while she's in jail, Mama begins sending Saya bedtime stories inspired by Haitian folklore on cassette tape.
Moved by her mother's tales and her father's attempts to reunite their family, Saya writes a story of her own—one that just might bring her mother home for good.
SFPL Summary: Grades 2-5. Age range: 5-8. When Saya's mother is sent to jail as an undocumented immigrant, she sends her daughter a cassette tape with a song and a bedtime story, which inspires Saya to write a story of her own–one that just might bring her mother home.
11. The Jumbies
Corinne La Mer claims she isn't afraid of anything. Not scorpions, not the boys who tease her, and certainly not jumbies. They're just tricksters made up by parents to frighten their children. Then one night Corinne chases an agouti all the way into the forbidden forest, and shining yellow eyes follow her to the edge of the trees. They couldn't belong to a jumbie. Or could they?
SFPL Summary: Grades: 3-5. Age range: 9-12. Eleven-year-old Corinne must call on her courage and ancient magic to stop an evil spirit and save her island home in the Caribbean.
12. Funny Bones
Funny Bones tells the story of how the amusing calaveras—skeletons performing various everyday or festive activities—came to be. They are the creation of Mexican artist José Guadalupe (Lupe) Posada (1852–1913). In a country that was not known for freedom of speech, he first drew political cartoons, much to the amusement of the local population but not the politicians.
Juxtaposing his own art with that of Lupe's, author Duncan Tonatiuh brings to light the remarkable life and work of a man whose art is beloved by many but whose name has remained in obscurity.
SFPL Summary: Grades: 1-5. Age range: 6-10. Presents the life of the Mexican artist Jose Guadalupe Posada, who became famous for his drawings of skeletons in multiple everyday poses which have become identified with the Mexican Day of the Dead.
The Coretta Scott King Award–winning Gone Crazy in Alabama by Newbery Honor and New York Times bestselling author Rita Williams-Garcia tells the story of the Gaither sisters as they travel from the streets of Brooklyn to the rural South for the summer of a lifetime.
SFPL Summary: Grades: 3-7. Age range: 8-12. Tells the story of the Gaither sisters as they travel from the streets of Brooklyn to the rural South for the summer of a lifetime. This is the 3rd and final book in the One Crazy Summer series.
El Deafo Summary: "Starting at a new school is scary, especially with a giant hearing aid strapped to your chest! At her old school, everyone in Cece's class was deaf. Here, she's different. She's sure the kids are staring at the Phonic Ear, the powerful aid that will help her hear her teacher. Too bad it also seems certain to repel potential friends.
Then Cece makes a startling discovery. With the Phonic Ear she can hear her teacher not just in the classroom but anywhere her teacher is in the school—in the hallway . . . in the teacher's lounge . . . in the bathroom! This is power. Maybe even superpower! Cece is on her way to becoming El Deafo, Listener for All. But the funny thing about being a superhero is that it's just another way of feeling different . . . and lonely. Can Cece channel her powers into finding the thing she wants most, a true friend?"
15. Sitting Bull
Sitting Bull (c. 1831–1890) was one of the greatest Lakota/Sioux warriors and chiefs who ever lived. From Sitting Bull's childhood—killing his first buffalo at age 10—to being named war chief to leading his people against the U.S. Army, Sitting Bull: Lakota Warrior and Defender of His People brings the story of the great chief to light.
SFPL Summary: Grades 3-7. Age range: 8-12. A biography that brings the story of the great chief to light.
16. George
When people look at George, they think they see a boy. But she knows she's not a boy. She knows she's a girl. George thinks she'll have to keep this a secret forever. Then her teacher announces that their class play is going to be Charlotte's Web. George really, really, REALLY wants to play Charlotte. But the teacher says she can't even try out for the part . . . because she's a boy. With the help of her best friend, Kelly, George comes up with a plan. Not just so she can be Charlotte — but so everyone can know who she is, once and for all.
SFPL Summary: Grades: 3-7. Age range: 8-12. When people look at George, they think they see a boy. But she knows she's not a boy. She knows she's a girl.
Twelve-year-old Chinese American Peter Lee and his family always shared a passion for baseball, bonding over backlot games and the Pittsburgh Pirates. But when a devastating tragedy strikes, the family flies apart and Peter's mom becomes paralyzed by grief, drifting further and further from her family.
SFPL Summary: Grades: 3-7. Age range: 8-12. Peter Lee hopes that if he joins a Little League team, he can reawaken the passion for baseball and family unity that all the members of his family used to share before his older brother's death.
18. Listen, Slowly
Listen, Slowly is a New York Times Book Review Notable Book and a Publishers Weekly Best Book of the Year! This remarkable and bestselling novel from Thanhha Lai, author of the National Book Award–winning and Newbery Honor Book Inside Out & Back Again, follows a young girl as she learns the true meaning of family.
SFPL Summary: Grades: 3-7. Age range: 8-12. A California girl born and raised, Mai can't wait to spend her vacation at the beach. Instead, she has to travel to Vietnam with her grandmother, who is going back to find out what really happened to her husband during the Vietnam War.
The Invisible Boy Summary: "A simple act of kindness can transform an invisible boy into a friend. Meet Brian, the invisible boy. Nobody in class ever seems to notice him or think to include him in their group, game, or birthday party–until, that is, a new kid comes to class. When Justin, the new boy, arrives, Brian is the first to make him feel welcome. And when Brian and Justin team up to work on a class project together, Brian finds a way to shine.
Any parent, teacher, or counselor looking for material that sensitively addresses the needs of quieter children will find The Invisible Boy a valuable and important resource. Includes a discussion guide and resources for further reading."
20. Full Cicada Moon
This historical middle-grade novel is told in poems from Mimi's perspective over the course of one year in her new town, and shows readers that positive change can start with just one person speaking up.
SFPL Summary: Grades: 3-7. Age range: 8-12. In 1969 twelve-year-old Mimi, a half-black and half-Japanese girl, and her family move to an all-white town in Vermont, where Mimi's mixed-race background and interest in "boyish" topics like astronomy make her feel like an outsider.
21. Echo
Lost and alone in a forbidden forest, Otto meets three mysterious sisters and suddenly finds himself entwined in a puzzling quest involving a prophecy, a promise, and a harmonica. Decades later, Friedrich in Germany, Mike in Pennsylvania, and Ivy in California each, in turn, become interwoven when the very same harmonica lands in their lives.
All the children face daunting challenges: rescuing a father, protecting a brother, holding a family together. And ultimately, pulled by the invisible thread of destiny, their suspenseful solo stories converge in an orchestral crescendo.
SFPL Summary: Grades: 5-9. Age range: 10-14. Decades after a boy is entwined in a prophecy-based quest involving three mysterious sisters and a harmonica, three individuals from different areas of the world confront daunting challenges while in possession of the same harmonica.
22. In The Footsteps Of Crazy Horse
The book follows the heroic deeds of the Lakota leader who took up arms against the US federal government to fight against encroachments on the territories and way of life of the Lakota people, including leading a war party to victory at the Battle of the Little Bighorn.
Along with Sitting Bull, Crazy Horse was the last of the Lakota to surrender his people to the US army. Through his grandfather's tales about the famous warrior, Jimmy learns more about his Lakota heritage and, ultimately, himself.
SFPL Summary: Grades: 5-9. Age range: 10-14. A boy travels with his grandfather to learn about his Lakota heritage while visiting places significant in the life of Crazy Horse.
23. X
Winner of the 2016 NAACP Image Award for Outstanding Literary Work for Youth/Teens
A 2016 Coretta Scott King Author Honor Book. Co-written by Malcolm X's daughter, this riveting and revealing novel follows the formative years of the man whose words and actions shook the world.
SFPL Summary: Grades: 8 and up. Age range: 13 and up. From Ilyasah Shabazz, the daughter of Malcolm X and the best-selling author of Malcolm Little, a novel based her father's formative years.