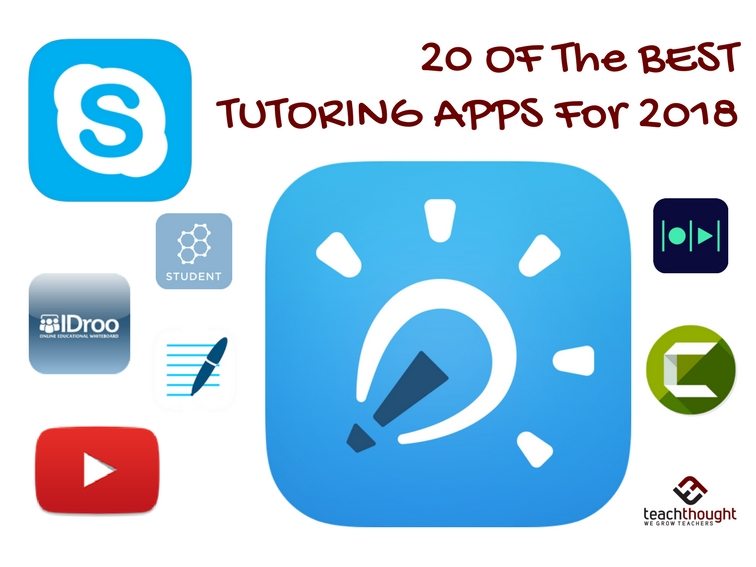 What Are The Best Tutoring Apps For Teachers?
by TeachThought Staff
What are the best tutoring apps for teachers and students?
Well, believe it or not, what actually qualifies as a 'tutoring app' isn't clear-cut. Is it a tutoring platform–one where actual tutoring of content is available? Is it mainly for teachers wanting to tutor classroom content for absent students, homework help, etc.? Or for the students themselves?
See also 8 Apps To Turn Your IPad Into A Digital Whiteboard
What about professional tutors? Blended tutoring? Language tutoring?
There's a lot to consider.
With that diversity in mind, we gathered 20 of the best tutoring apps and tools for both teachers and students below. The focus is on apps that any 'tutor' in general, from classroom teachers to professional tutoring organizations–can use to help supplement student learning.
20 Of The Best Tutoring Apps For Teachers
The links below may be affiliate links, which means if you click the link and make a purchase, we may receive a small portion of any revenue. Regardless, each tool was chosen based on merit rather than affiliate status, and the vast majority are free tutoring apps. You can read more about our affiliate policy here.
1. Facebook Groups/ Facebook Messenger
Pretty much everyone knows about and/or uses Facebook and with Facebook Groups and Facebook Messenger it creates a more private or specific place to communicate with one or several people at once.
2. Skype
Skype allows you to not only instant message, but voice call or video call anyone, anywhere.
3. Google Drive
By now, you likely know about the tightly-integrated (though often clunky) digital locker, Google Drive–an indispensable tool for both tutoring and a paperless classroom.
A tool that allows real-time collaboration, creativity, and presentations to merge all on a digital whiteboard perfect for sharing with students or colleagues.
5. Teachable
Use your skills, knowledge, and experience to create your own online courses.
6. Camtasia
An easy-to-use video editing software designed for all projects in mind.
7. Google Docs
One of our favorite ways to share, edit and keep documents across all platforms.
Youtube is a great way to share videos and learn. Youtube Creator will aid in creating, marketing, and sharing your brand, ideas, or projects.
9. iDroo
An infinite whiteboard great for online teaching and class projects.
Record your screen and webcam for various quick videos.
11. Khan Academy
Designed for students to help with coursework, teachers to help students, and parents to keep an eye on what and how well their student is doing.
12. iMovie
Easily create and edit videos on an IOS device.
13. Goodnotes
One of our favorite digital note-taking apps. Also, create PDF files, and exports drawings, handwriting, notes, and more easily via email, Google Drive, and more.
14. Dropbox
A favorite and simple way to store and share files.
A digital and realistic whiteboard that can turn your creativity and ideas into tables, charts, and shapes.
16. Socrative
Connection and understand with your students is so important and now easier than ever using this app.
A professional audio editing software that will mix, restore, and record all your projects and ideas.
18. Magisto
A smart video editor perfect for sharing on social media.
Brand and edit your videos with this smart app.
You can now work anywhere from any desktop on your mobile devices.
Also consider: Edmodo, Google Classroom, Doceri Interactive Whiteboard, Microsoft OneDrive, IBM Cloud Video
20 Of The Best Tutoring Apps For Teachers