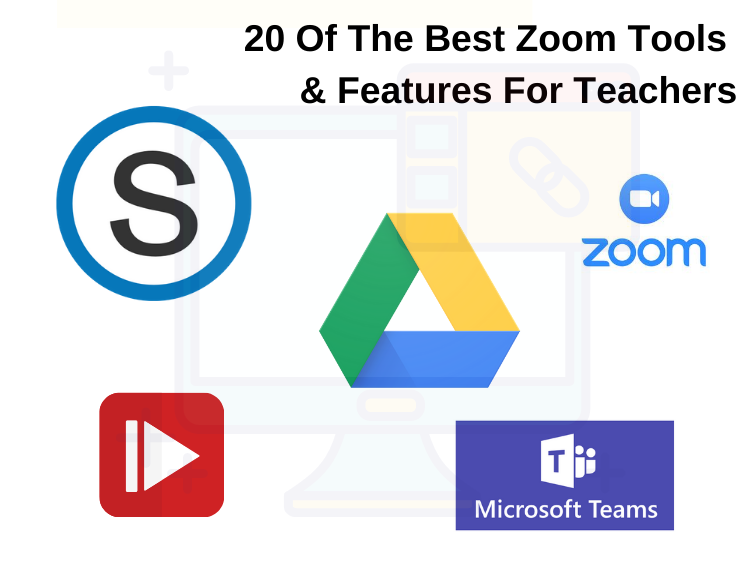 What Are The Best Zoom Tools For Teachers?
by TeachThought Staff
What are the best Zoom tools for teachers?
Whether you're doing quick mini-lessons with 2nd-graders or lecturing to college students, Zoom is a powerful teaching tool for online learning.
While there are many alternatives to Zoom, for now, it remains the standard for video streaming and conferencing for remote teaching and learning. But that doesn't mean it can't be extended and improved with a few tweaks, add-ons, tools, or existing feature use.
So here we are–a collection of some of the best Zoom tools for teachers and schools. Some of the following Zoom tools for teachers are features of the Zoom platform itself, while others are external apps that integrate with Zoom, and still others are Google Chrome extensions.
Another way to think about this list is a collection of tools, features, resources, and related ways to improve the overall experience of Zoom for teachers.
20 Of The Best Zoom Tools For Teachers
With this app, you can transfer your Zoom recordings and transcripts to your Google Drive account.
2. Whiteboarding
The native Zoom whiteboard feature will allow you to share a whiteboard that you and other participants (if allowed) can annotate on.
3. Virtual Backgrounds for Zoom
The Virtual Background feature allows you to display an image or video as your background during a Zoom Meeting. This feature works best with a green screen and uniform lighting to allow Zoom to detect the difference between you and your background. You can also upload your own images or videos as your virtual background and can use Virtual Background in a Zoom Breakout Room as well.
4. Enable or Disable Recording
Depending on the purpose of the Zoom meeting, you may absolutely need it to be recorded or absolutely cannot allow recording. That's where enabling or disabling recordings come in.
5. Room Polling
According to Zoom, the polling feature for meetings "allows you to create single choice or multiple choice polling questions for your meetings. You will be able to launch the poll during your meeting and gather the responses from your attendees. You also have the ability to download a report of polling after the meeting. Polls can also be conducted anonymously, if you do not wish to collect participant information with the poll results." This obviously useful for quick-and-easy formative assessment.
A third-party tool for capturing any video stream–screencasts, webinars, lectures, office hour consultations, conferences, meetings, etc. There are both free and paid versions and a photo stock library as well.
7. Annotation Tools
While better online whiteboard options exist, if you're in Zoom and want to stay there, enabling annotation tools (for yourself or viewers) is a useful Zoom tool for teachers and students alike.
The Wikipedia Search chat app for Zoom allows you to search for Wikipedia articles directly from your Zoom Chat channels and share them with other users in the channel.
Prezi Video is a visual communication tool where you overlay your visuals on screen next to you, so you can hold more engaging video conferences with students. When you host video meetings with students, you no longer have to choose between sharing the screen or maintaining a personal, human connection for improved engagement. Overlay your visuals directly on screen next to you and experience more engaging, impactful, and interactive Zoom video conferences.
10. Push To Talk
This built-in Zoom features allows you to remain muted throughout your Zoom meeting and hold down the spacebar when you want to be unmuted and talk. This is likely more useful for students than teachers.
11. Waiting Rooms
The Waiting Room feature allows the host to control when a participant joins the meeting. As the meeting host, you can admit attendees one by one, or hold all attendees in the Waiting Room and admit them all at once. You can send all participants to the Waiting Room when joining your meeting, or you can allow participants from your Zoom account and participants at specified domains to bypass the Waiting Room.
You can also customize the waiting room–to clarify the purpose of the room for students, for example.
12. Keyboard Shortcuts For Zoom
While some keyboard shortcuts don't seem like shortcuts at all, some of the following may actually help your teaching.
This Zoom app is designed to translate text into different languages though as of publishing time, we haven't had a chance to test it out.
14. Zoom Scheduler via Google Calendar Chrome Extension
Schedule Zoom meetings directly from Google Calendar with this Google Chrome Extension. (You can find more Best Google Chrome Extensions For Teachers.)
15. Automatically Schedule Meetings (including recurring meetings)
Zoom allows you to schedule meetings with multiple occurrences, so that each occurrence uses the same meeting ID and settings. You can schedule these meetings in daily, weekly, and monthly increments. You can also set a recurring meeting to be used at any time. Meeting IDs for recurring meetings expire 365 days after the meeting was last started.
16. Take attendance with usage reports
If your Zoom meeting has registration or polling enabled, you can generate a registration or polling report for to take attendance or for other documentation requirements. The registration report contains the following information of registered participants:
First and last name
Email address
Date and time of registration
Approval status
Securely create, manage and launch Zoom meetings from within your Schoology environment.
18. Screen Sharing
Among the most useful tools for Zoom is screen sharing–especially when Zoom is used for training or webinars. Meeting participants can annotate on a shared screen as a viewer or the one that started sharing your screen.
If you use Microsoft Teams in your classroom, this app allows you to start, schedule, and join Zoom Meetings directly from your Microsoft Team space.
Integrate Zoom into Nearpod to easily start Zoom meetings from within your Live Participation Nearpods and have your students join both with one code.
On the Zoom video streaming platform, Breakout Rooms are a way to break a larger meeting into smaller meetings (as few as two and as many as 50).
Rewatch is a private & secure video channel for your Zoom recordings. It organizes and transcribes your team's recorded all-hands, training, and recurring meetings—all in one place. Every Zoom recording is automatically transcribed so the content is readable and searchable by your team. It's never been easier to quickly find what you're looking for.
20 Of The Best Zoom Tools For Teachers