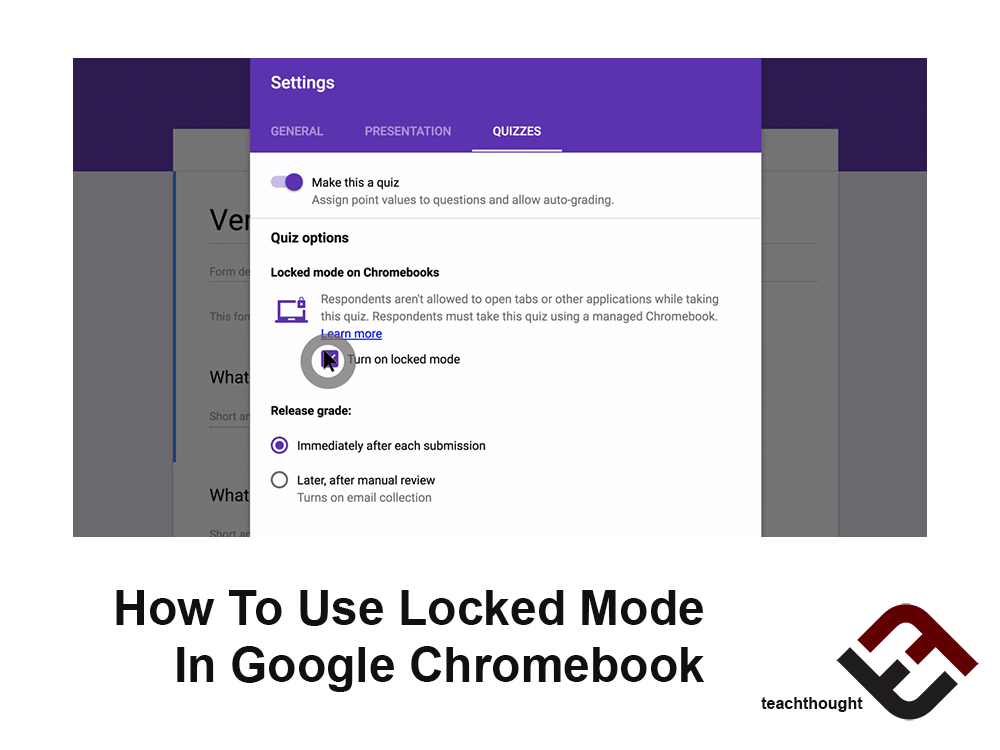 How To Use Locked Mode On Google Chromebook
by TeachThought Staff
We've talked about ways to use Google Classroom.
Today, we're going to take a look at a simple feature that might come in handy in your classroom while students are taking quizzes and tests in Google Forms. Using a Google Chromebook. That has to be managed. And you have to be accepted to beta program. And then you have to turn it on.
Meet those criteria, then you might find it useful.
What Is Chromebook Locked Mode?
If you use Google Chromebooks in your classroom, there's a feature that can help students stay focused–and will alert you if they don't. It's called 'Locked Mode.'
According to Google, Locked Mode is a feature for managed Google Chromebooks that "helps keep students focused while they take quizzes and tests. When students take a quiz in locked mode, they won't be able to browse other websites or open any other apps."
Further, students won't even be able to use other apps. Some extensions and keyboard shortcuts won't be available in Locked Mode, either. In fact, if a student even tries to open another tab or exits the quiz, the teacher automatically receives an email.
Locked Mode isn't messing around.
In short, Locked Mode for Chromebooks means students can't open up anything else but the assessment itself. No multitasking, no music, no texting, no Googling, no cheating.
What Do You Need To Use Chromebook Locked Mode?
What do you need to use Locked Mode for Google Chromebook in Google Forms and quizzes? As of 2019, you'll need:
A G Suite for Education Account
Sign up for the beta program
Chromebook managed by your school for each student
Once accepted to the (currently beta) program, you'll be able to enable Locked Mode using the steps shown below.

How To Turn On Locked Mode In Google Forms
As shown above, to turn on Locked Mode for students, use the following steps.
In Google Forms, open a quiz.
At the top, click Settings   Quizzes.
Turn on locked mode.
When you turn on locked mode, your quiz will automatically:
Collect email addresses
Allow students to only submit once
Limit to your domain only
That's it–unless Google changes something, it's really that simple. Be sure to explore our other Google teaching tools and resources.