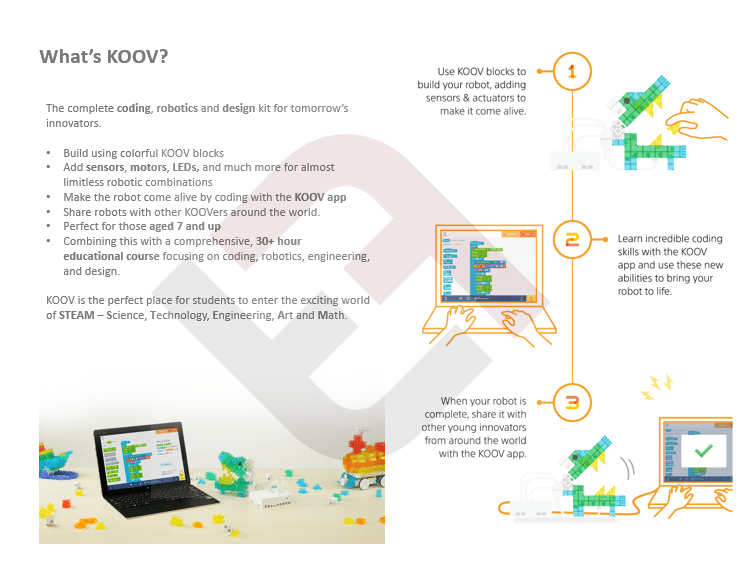 KOOV Robotics: An All-In-One Solution For Teaching Robotics In The Classroom
contributed by KOOV Educator Kit
This content was sponsored and created by KOOV Robotics and Sony Electronics with guidance from the TeachThought editorial staff
Teaching coding and robotics in the classroom presents challenges for almost any teacher.
In today's technology-driven world, STEAM-focused education helps children develop the abilities they need for an ever-changing landscape. Students need to develop their creativity, critical thinking, collaboration skills and communication abilities and teachers are tasked with finding both engaging and effective ways to educate.
Teachers need to ensure that coding and robotics are accessible to all students and allows for both teamwork and self-paced learning since coding comes with varying levels of aptitude.
With so many challenges facing educators, we wanted to bring to your attention to a new kit aimed at addressing some of these concerns.
5 Features Of KOOV Educator Robotic Kits For Classroom Use
1. KOOV Robotics kits include everything you need to teach with robotics.
The KOOV Educator Kit is an all-in-one coding, robotics and design kit and education course that combines digital coding with physical building to teach the next generation of problem-solvers and innovators. The kit is meant to be a ready to go, easy-to-use, comprehensive resource for teachers, students and parents.
Designed for children ages eight and up and accommodating up to five students with one kit, the KOOV Educator Kit allows students to build on core concepts that they will learn over time and create increasingly complex robots as they go.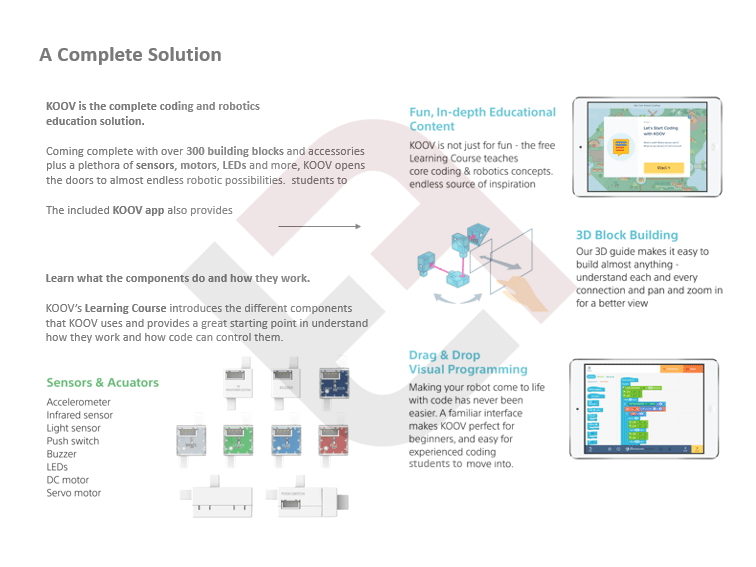 2. There are available courses for students.
The Learning Course includes 50+ hours of easy-to-follow educational content and offers a great starting point for students to learn key concepts in coding, building, and design. It introduces all the different electrical components that KOOV uses, basics on design principles including the use of balance and the center of gravity, and tutorials on how code can be used to control their creations.
While working their way through the courses, students can earn badges that encourage them to tackle the next subject while acquiring new skills. A "Robot Buddy" accompanies the students and provides tips and guidance, ensuring no student gets lost along the way.
3. KOOV Robotics kits come with robot 'recipes' to get students started.
The KOOV Educator Kit also comes with 20 pre-designed, pre-coded "Robot Recipes" ranging from simple structures to complex animals and vehicles. The students can start building right away and quickly develop the skills needed to create their own original robots.
The Robot Recipes showcase what can be done with KOOV, giving young learners the inspiration they need to move ahead and make their own unique creations.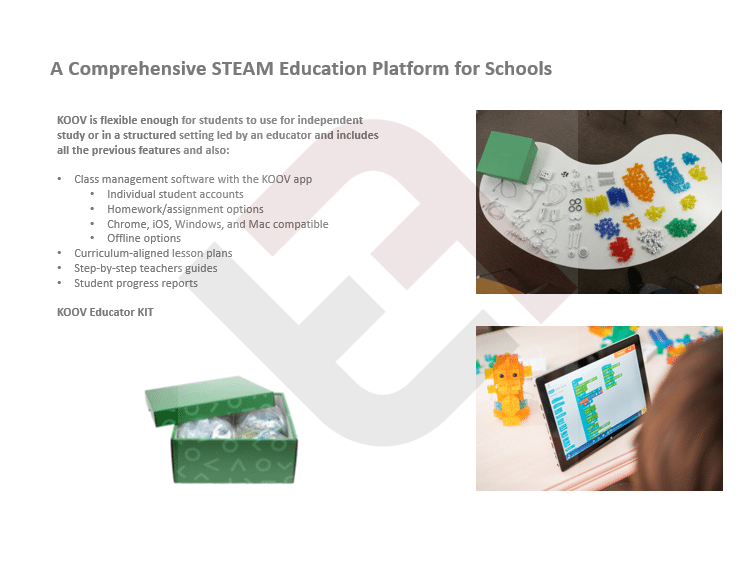 4. There is a global online community of support.
Another interesting feature of KOOV is the global online community. Students can safely share their robots, how they made them, view others' creations, download those codes and recreate them. This space is secure, well-supervised, kid-friendly and encourages collaboration among young innovators from around the world.
For the more seasoned coder, this space can be an endless resource for creativity and effective learning.
5. KOOV Robotics kits have available curriculum resources.
From an educator's perspective, KOOV is flexible enough for students to use for independent study or in a structured setting led by a teacher.
Since up to five students can use the kit, teachers can look to foster collaboration or focus on individual learning based on the needs of the student and the general classroom landscape. KOOV offers curriculum-aligned lesson plans, step-by-step teacher guides, student progress reports, and class management features making it as easy as possible for educators to support the STEAM educational approach in their classrooms.
Knowing that educators face so many challenges in delivering STEAM education maybe consider KOOV as one of the new tools in your classroom toolkit.
For more information please visit sony.com/koov