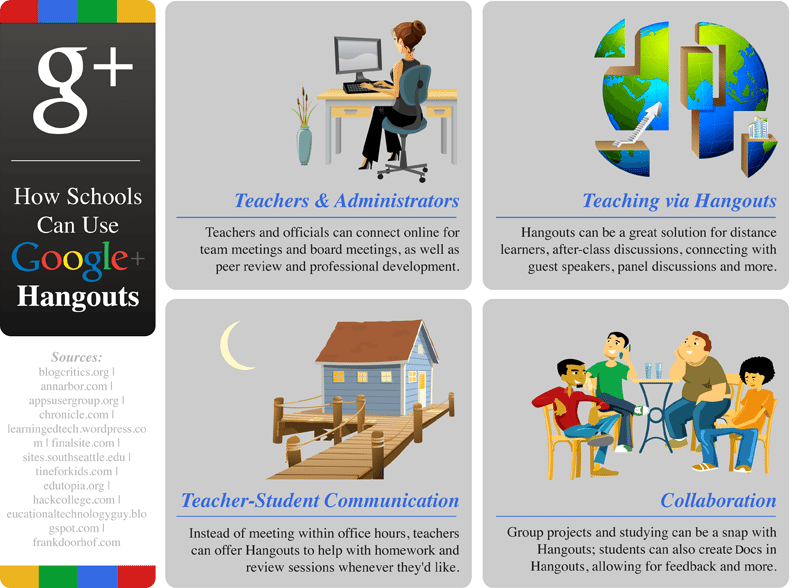 How Are Universities Using Google+ To Communicate With Students?
Social media resources like Google Plus offer a great opportunity for growth in education through collaborative work, communication, and camaraderie. Many of today's universities have recognized this incredible potential, and have put G+ to work on campus. We've discovered more than 30 great ways universities are currently using Google Plus, along with several ideas for the future. Read on to learn about the amazing possibilities that Google Plus offers for universities.
New campus communication: At the University of Michigan, administrators are excited about using Google+ for better campus communication, especially collaboration.
Hangout office hours: Don't feel like heading to campus in the middle of a snowstorm? Hold office hours in your PJs by offering your virtual availability on Google Plus Hangouts.
Improving search results: Google Plus has begun to offer personalized search results for users who are logged in. Professors and experts can share excellent resources on Google Plus, and make it easy for students to get the most relevant information when they search.
Sharing campus life: Google Plus is a natural spot to highlight university life and activities. Schools like the University of Melbourne use Instagram and other photo apps to share images of their campus.
Engaging board members: For board members that have a hard time making it to meetings, Hangouts are a great way to let them get together and talk face to face without even being in the room.
Alumni relations: Google Plus Hangouts are a great place for alumni to connect with other student, faculty, and staff, building connections and facilitating opportunities within the university community.
Colleague sharing: Within departments, colleges, and the university at large, Google Plus allows for lots of idea sharing. Professors can get feedback on ideas from colleagues without a lot of hassle, and get it fast so that they can implement them immediately.
Real-time conference sharing: Whether hosting or participating, universities can share photos and highlights from conferences in real time, offering a great way to promote the events right as they happen.
Student feedback: Using Google Plus, it's easy for professors to ask for feedback on classes, exams, and more, using that information to construct courses for the future.
Club management: Extracurricular activities often require lots of meetings and communication that eat up lots of time from college students who often don't have a whole lot to spare. But with Hangouts, club officers can hold group meetings without having to get together on campus.
Career recruitment: Not every employer can make it on campus for career fairs, but most can connect through Google Plus. Using Hangouts, employers can meet in small groups with students who are interested in working for them.
Connect with study abroad students: For far-flung students, it can be difficult to stay connected to campus. But Hangouts make it easy for students studying abroad to connect with campus, especially students who might be interested in going abroad in the future.
Hangout collaboration: Faculty, staff, and students can collaborate and share as a group with the use of Google Plus Hangouts.
Sharing university success: Lots of universities are using Google Plus to highlight the achievements of current and former students, as well as professors. Georgia Tech College of Sciences regularly shares great news about successes within the university community.
Information exchange: Open the world of Google Plus up to students by sharing your circles with others. With this ability, you can ask your biology students to follow everyone in your biology circle and learn from the experts you've connected with.
Sharing assignments: Some professors post assignments on Google Plus, offering a way for students to get clarification and updates in a really convenient way.
Google+ reference desk: University libraries can offer a convenient online reference desk. Set times, or stay connected all the time for always-on help from your friendly college librarian.
Optional review sessions: With Hangouts, professors can host chats a few nights a week before big exams, offering review sessions and helpful study hints for students to use.
Virtual tours: Instead of outdated brochures, Google+ offers universities the opportunity for giving potential students and parents a virtual tour of campus, highlighting achievements, attractive campus spots, amenities, and more.
Promoting student groups: Universities can highlight some of their most interesting and popular student groups on Google Plus, attracting prospective students and boosting the membership of worthwhile activities.
Class communication: Some professors have asked their students to sign up for GPlus so that they can create class Circles, sharing information, collaboration, and offering an outlet for interaction between students.
Material archiving: Instead of getting buried in new material, students and professors can access posts by date. This makes it easy when it comes to reviewing materials for test time.
Promotions on Pages: At Georgia Tech, students use Google Plus Pages to promote the latest updates on their research journal.
Guest speakers from around the world: Instead of paying to fly experts in from around the world, universities can now use Google Plus to connect with experts and discuss topics virtually.
Campus preview hangouts: Admissions counselors can lead hangouts, offering a great time for prospective students to stop by and discuss the college and admissions process.
Student study sessions: Students like those at Boise State University can post Named Hangouts to make group study sessions available for their classes. Even impromptu sessions before test time are possible with Google Plus.
Sharing campus activities: Universities like Auburn love to share updates on campus activities like football, allowing prospective students and fans to keep up with what's going on, and get a glimpse into the lifestyle of the campus.
Increasing student engagement: Before coming to campus, freshmen often try to find a way to meet other students, but that's not an easy thing to do. With Google Plus Hangouts, new students can build relationships before school starts.
Gathering university news: Google Plus Sparks makes it easy to gather news and information about a variety of topics, including all of the news that's being shared about the university.
Offering tutorial sessions: Much like Hangout office hours, professors and TAs can host tutorial sessions for students to brush up on material covered during class time without having to actually go to campus and participate in person.
Marketing: Universities are seeking out future students right where they are: on Google Plus. Drake University has used Google Plus to target prospective students, sharing videos about a typical day at the university.