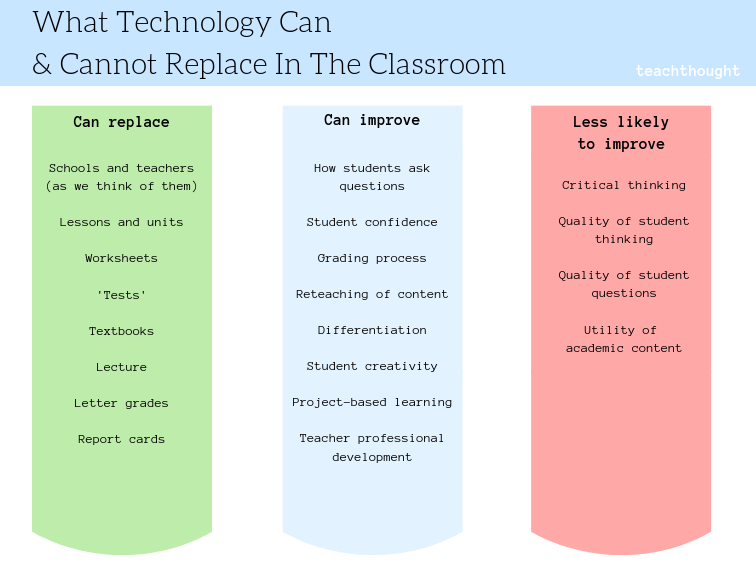 Technology Can Replace Some Things (But Not Everything) In The Classroom
by Terry Heick
Short of a very specific and 'non-traditional' learning model, the conversation about whether or not technology has a role in the classroom doesn't make much sense anymore. In short, for most grade levels and most students in most contexts, technology can improve learning and debating this idea doesn't feel authentic.
The nature of technology is such that minor trends and changes–within education/pedagogy and beyond–can have significant impact elsewhere. The advent of smartphones leading to BYOD programs is one example. Another is Google creating a simple browser-based operating system, which led to the Google Chromebook, which led to the relative drop in the momentum of iPads in the classroom.
See also Can Technology Replace Teachers?
Two more macro examples? The 'invention' of electricity and WiFi–both singular changes that had huge impacts almost everywhere else. Anything similar developed in the next two decades would make a list like this look silly in hindsight. The point is that things change fast. (This is part of the charm and difficulty of the cycle of innovation.)
With that in mind, what can technology replace today in classrooms and schools as they are? Quite a bit, it turns out. A few notes:
1. This is all obviously highly speculative and subjective–just food for thought.
2. I don't mean that I think technology will replace these things or even should–only that it's possible.
3. Many of these topics can be in multiple categories. Technology can 'replace' report cards but it can also 'significantly improve' report cards, too. The same is true for many other teaching and learning practices. Is technology most likely to replace or improve 'writing'? That answer seems obvious: improve. Will technology 'significantly improve' or 'somewhat improve' writing? Well, that depends on what you mean by 'writing' and how the technology is used. Ultimately, I categorized each in the 'best fit' category each as far as I could surmise. As I've mentioned–and is obvious–this is all hugely subjective.
4. In the same way the SAMR model offers a way to think about impact, the same is true about the list below. Technology, well-considered, managed, and designed, ideally would allow a clean-sheet design of education itself rather than a mere digitizing of traditional formal learning relics. There is a mix of everything below, however.
5. I didn't get into the things technology might hamper or diminish because that didn't seem to fit the spirit of the post.
6. I also didn't explore how and/or why technology might be perceived to improve or not improve any of these practices, artifacts, or ideas. That would be a book. I did give an example or two for each just to clarify what I meant. I'm often asked for research or data to support my claims in posts like these. I did not support each of these claims with research and data. I intended for this thinking to promote conversation and thinking–maybe even research that could produce data–that might eventually improve teaching and learning.
7. Obviously, even the word 'technology' is relative. The use of modern plastics and metals is 'technology.' Electricity is technology. Clean water requires technology. And so on.
What Technology Can Replace In The Classroom
Technology can replace and/or eliminate:
Brick-and-mortar schools
Example: By creating entire digital 'classrooms' where content is learned online and then applied, brick-and-mortar schools can either be replaced or used for different functions such as meeting for PBL, supporting students, maker spaces and libraries, etc. (See here for ideas on what else schools could be besides school.)
This obviously isn't practical; 'online learning' can't simply 'replace schools' right now–nor should they. But that is due in large part to how we think about learning and social norms and patterns like economic factors and social norms and parent work schedules (and how parents think about learning), etc. The point is, as schools function now, technology can replace a very large portion of what happens.
Classrooms (or traditional 'small room' design of most classrooms)
Example: A blended learning environment
Tests
Example: We think of 'tests' as one-time measurements that are scored and reported. Ongoing use of online learning platforms makes tests–as we think about them today–more like limited snapshots instead of actual understanding of content.
Worksheets
Example: Worksheets are easy ways to introduce or review material but they're also wasteful, non-responsive, and slow. They require grading by hand, require extra steps to share 'performance' with stakeholders, and aren't exactly the most engaging ways to teach and learn. Use a podcast or video or game or–well, anything other than a worksheet.
Direct instruction/lecture
Example: Technology enables scores and scores of alternatives to lecturing
Textbooks
Example: Using learning playlists, simulations in scenario-based simulations, etc.
Letter grades
Example: Using learning badges uncover the nuance of learning as a process rather than a letter intended to represent a level of performance and understanding
Report cards
Example: See above.
Technology can significantly impact or improve:
How and when students ask questions
Example: Using text or voice messaging to ask questions; using VoiceThread; using twitter hashtags in a backchannel questioning of a lecture
The variety and quality of learning models
Example: Enabling the 'flipped classroom', second screen learning, self-directed learning, self-organized learning environments, etc.
Student access to content
Example: The ability to access 'content' from mobile devices or computers at home (provided what's being learned is online): books, quizzes, videos, group discussions, etc.
The grading process
Example: Students can more seamlessly access previous assignments and assessments to improve or extend
Personalized learning
Example: Data used to personalize learning can be 'fresher' (i.e., from a recent assessment rather than a reading level test given at the beginning of the year)
'Reteaching' of content
Example: When the reteaching is done, who receives the reteaching and how, etc.
Collaborative learning experiences
Example: Who does what kind of collaborative learning and with whom; when and why they do it, etc.
Teacher-led differentiation efforts
Example: Increasing the access to the data used to differentiate planned learning experiences
Student portfolios
Example: Who sees, benefits from–and has access–to student portfolios; how 'elegantly' those portfolios are published and 'framed'
Student curiosity
Example: Theoretically, by connecting students to a broader set–and potentially higher quality–of learning content and collaboration, curiosity could be increased. Obviously you could argue that technology, used poorly, could have the opposite effect
The quantity and diversity of support students can receive
Example: Online courses or tutoring; YouTube videos, etc
Student debate
Example: Extending the debate outside the classroom to involve others; 'publishing' the debate to be assessed and given feedback by others (other students, community members, experts, etc.)
Transparency of the grading process
Example: Publishing both grades for assessments as well as the grading scale itself; see also 'letter grades' and 'report cards' above
High school dropout rates (i.e., eLearning alternatives)
Inquiry-based learning
Example: If students are able to navigate information on their own via research–and avoid the pitfalls of doing so–authentic inquiry can take place without burdening the teacher to curate and distribute all of the learning materials. If this actually results in learning or not depends on dozens of other factors.
Project-based learning
Example: Use technology to connect students with experts embedded in communities to solve problems in those communities
Student note-taking
Example: Making sketchnotes with (clickable) links to embedded content or images, audio, etc. using Microsoft Onenote.
Curriculum maps and pacing guides
Example: Making the easier to document and share and improve; embedding resources within these curriculum maps (e.g., book lists, assessment standards, etc.)
Data quality
Example: Technology allows data to be collected more easily and frequently and it can be visualized (for easier understanding by teachers) automatically. This isn't magic, of course. The data is only as good as the assessment.
Data sharing within and across schools and districts
Example: Similar to curriculum maps, technology can make data sharing, revising, embedding resources, etc., easier.
Data-based teaching or data integration to personalize learning
Example: Algorithms that match student performance levels with various literacy or teaching strategies
Teacher professional development
Example: To supplement in-person teacher PD workshops, online courses and conferences are growing in number and quality
Reading level assessment
Example: Using an adaptive learning platform like IXL or a platform expressly designed for literacy
Student presentations
Example: Tools like nearpod, VoiceThread, Explain Everything, or Prezi Next
Student reflection on learning experiences
Example: Keeping a video journal on a private YouTube channel
Learning feedback
Example: Like 'reading level assessment' above, a learning platform like IXL can help provide students with immediate feedback to responses in otherwise traditional learning models
Maker learning experiences
Example: Co-creating 'things' on diy.org with other students (either inside or beyond the classroom)
Skills and competency practice
Example: Drilling math problems on Khan Academy or writing exercises with other students on Boom Writer
Field trips
Example: One example of how technology can be used to improve 'real life' field trips (as opposed to virtual field trips): Use technology to research 'better' field trips, then use augmented reality when you get there or even use video blogging to document the highlights or reflect on the experience afterward in a podcast
Technology can somewhat impact or improve:
Metacognition
Example: An app with a reminder to reflect on thinking with a specific prompt
Classroom management
Example: While classroom management depends in large part on relationships with students and infrastructure within a school, apps like Class Dojo and Plickers can support teachers in providing a safe and structured environment where students can learn
Literacy practices at home
Example: Using apps like Kindle or iBooks–or even simply sharing PDFs of texts that students can read outside of the classroom
Student mindset (i.e., Habits of Mind, Growth Mindset, etc.)
Example: A student using their own smartphone to document when they demonstrate 'cognitive flexibility' or 'responding with awe.'
Student engagement
Example: As with all the rest, technology isn't nearly enough to make up for unengaging learning models and lesson and unit planning, but game-based learning can absolutely engage students. Music and film, as well. This is a list that can get long fast.
Journaling
Example: Keeping a journal online (using any number of apps–even simply a Google Doc)
Parent participation in the classroom or school
Example: Using Seesaw to document and share their work from the day with parents and even collaborate if they have the time/resources
Technology (as it is) is (for now) unlikely to (significantly) impact or improve:
Teachers
Though technology can perform many of the tasks teachers are not responsible for–or simply make teaching more sustainable for those teachers, technology cannot replace teachers' humanity, affection, and intimate knowledge of the student and their history in a place and its history
Critical thinking
The utility of traditional academic content and standards; self-initiated transfer of academic skills
Using traditional academic content in authentic ways without being told to is unlikely to be significantly affected by technology in the near future
The 'quality' of student questions
QFT sessions could, for example, help students create 'better questions' and certainly there are ways technology can be used to help here but there aren't very many obvious ways teachers can seamlessly use technology to improve the quality of student inquiry. Few that I can think of, anyway. If you can, let me know in the comments. I'd love to hear some ideas.
The 'quality' of student thinking
Online journaling, collaboration with experts, podcasting with peers, taking courses online, and dozens of other opportunities exist for technology to 'improve' the 'quality' of student thinking, but sustained improvement of critical thinking and application of knowledge depends, in large part, on the students and their habits (with and without technology) outside the classroom.
What Technology Can & Cannot Replace In The Classroom