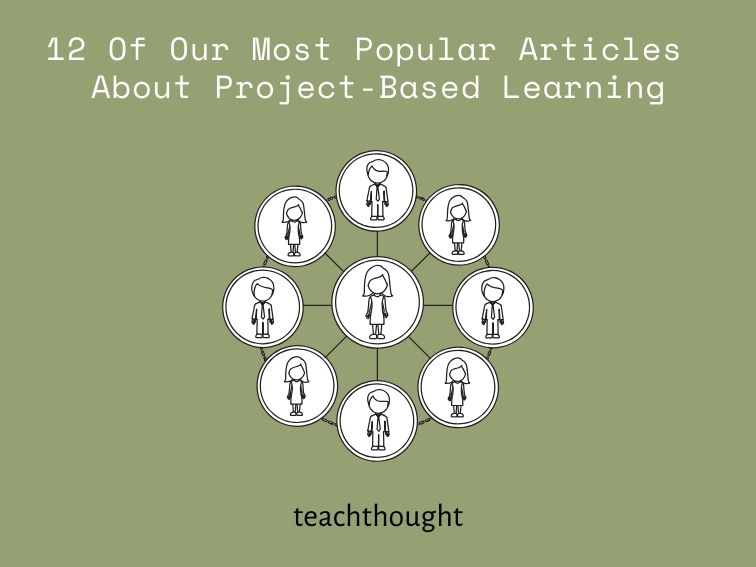 12 Of Our Most Popular Articles About Project-Based Learning
by TeachThought Staff
Project-based learning is a useful framework for unifying many of the elements of 'good teaching' and progressive learning.
With that in mind, we've gathered some of our most popular project-based learning articles of the last several years below as we continue to plan and create new content that explores how PBL is changing and growing in parallel with modern trends, knowledge demands, academic standards, and technology.
You can find all of our project-based learning content and our search page to find exactly what you're looking for.
1. The Difference Between Projects And Project-Based Learning
Excerpt: "While project-based learning (PBL) also features projects, in PBL the focus is more on the process of learning and learner-peer-content interaction that the end-product itself."
2. 25 Questions To Guide Teaching With Project-Based Learning
Excerpt:
"What role is the learner assuming? Designer? Engineer? Brother? Artist? Cultural Critic? Naturalist?
What is their purpose? What are they doing, and what should the project itself 'do'?
Who is their audience? Who is the audience of the project's design, impact, or effect?"
3. 50 Smart Ideas For Project-Based Learning
Excerpt:
"Inventory the world's most compelling ideas in an elegant and browsable interface.
Problem-solve 'screentime' for yourself and family (identify problem, overcome those challenges, monitor progress, evaluate effect of changes, etc.)
Solve the problem of negative and/or 'fake news.'"
4. 3 Types Of Project-Based Learning Show Its Range As A Learning Model
Excerpt: "Challenge-Based Learning is "an engaging multidisciplinary approach to teaching and learning that encourages students to leverage the technology they use in their daily lives to solve real-world problems through efforts in their homes, schools and communities."
5. 8 Switches To Update Project-Based Learning In The 21st Century
Excerpt: "Letting go of a formulaic approach to PBL is helpful for revealing its real potential as an investigative and design process that leads to outcomes other than those designated by the system. It is not enough to 'meet' standards or, worse, 'exceed' standards. At its heart, PBL is a creative learning experience that gives students parameters, guidance, and evaluative feedback as they construct new knowledge, solve open-ended problems, or practice the skills of innovation."
6. 16 Questions To Help Students Brainstorm Project-Based Learning
Excerpt:
"6. What is the history of this problem?
7. Why have previous efforts to solve it fallen short?
8. What is the proper scale I should approach this issue to do my best work?"
7. 4 Phases Of Inquiry-Based Learning: A Guide For Teachers
Excerpt: "The nature of inquiry is ideally both curiosity-based and fluid. Narrow criteria, restrictive rubrics, and other traditional artifacts of 'school work' can stifle inquiry at this point of the learning process. The teacher's role at this point in the learning process is focused on resources, modeling curiosity, and cognitive coaching."
8. 7 Essential Ingredients Of Project-Based Learning
Excerpt:
"1. A Need To Know
2. A Driving Question
3. Student Voice & Choice"
9. 5 Powerful Teaching Strategies For Project-Based Learning
Excerpt: "High quality authentic project design is about helping our students learn by experiencing real challenges and seeing their creative, relevant solutions come to life in the products they construct."
10. 12 Timeless Project-Based Learning Resources
Excerpt: "Project-based learning often involves students working in pairs or groups, thus facilitating a deeper understanding of cooperation and communication in solving problems. Ready to try project-based learning in your classroom? These tried-and-true resources are sure to get you on the right track."
11. Project-Based Learning in Math: 6 Examples
Excerpt: "Students will form design teams to create a map showing how the arena can be converted for the two sports. The map will be accompanied by a hand-built model or a digital design using Google SketchUp or other tool. In the final presentations, the map and design ideas will be presented to the local City Council."
12. 4 Keys To Designing A Project-Based Learning Classroom
Excerpt: "Think information access. PBL is not a paper-pushing style of learning. Students need access to chalk or white boards, reference books, and art or presentation supplies–in addition to search engines, social media, periodicals, and more. Young children are often spatial and tactile learners, so it helps to divide these multi-disciplinary classrooms into subject-themed areas that organize and display manipulatives, learning materials and other supplies."
Bonus: 42 Fill-in-the-Blank Prompts For Students To Design Their Own Projects
Excerpt:
1. Clarify…for…using…
2. Stylize…without changing…
3. Illuminate…so that…
12 Of Our Most Popular Articles About Project-Based Learning