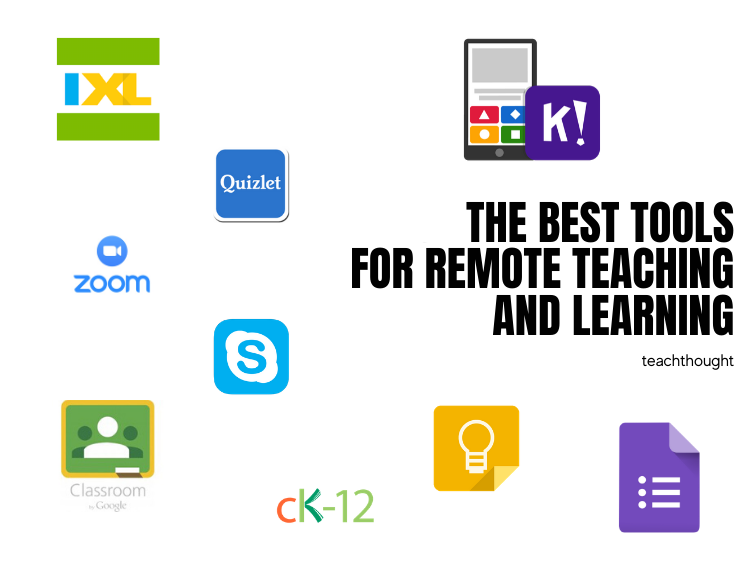 contributed by HCOS Learning Commons and updated by TeachThought Staff
This resource collection is self-explanatory and needs very little contextualizing: remote teaching tools are always useful but recently, they've become emphasized more than ever–and also have become better than ever themselves, too.
It's easy to take for granted the sheer volume of quality learning resources available online compared to even ten years ago, much less 30.
So with that in mind, on to the list of 30 of the best tools for remote teaching and learning that we could find.
Use Hypothesis to hold discussions, read socially, organize your research, and take personal notes for reflective teaching, for example.
Factile
What is Factile? The game-based learning platform is a free learning platform that lets teachers create engaging jeopardy-style quiz games for the remote or in-person classroom.
Buncee is a creation and presentation tool for students and educators to create interactive classroom content, allowing learners of all ages to visualize concepts and communicate creatively.
Save, organize and present multimedia content with your students, teachers and learning communities with Wakelet (which is a free tool for teachers).
Flipgrid a free, simple way to foster short video-based discussions on classroom topics. See Ways To Use Flipgrid In The Classroom.
This tool helps you create a custom discussion prompt just for your class. Each student reviews the materials provided and submits a unique response to the discussion prompt.
This popular tool (also useful in the physical classroom) empower students to independently document their learning. See how one teacher uses Seesaw in her classroom.)
Bring your virtual, remote teaching classroom together on the same virtual canvas, around the world and across devices. Brainstorm simultaneously in the Whiteboard app or from your browser window.
K-2 online learning for students. This won't help you plan lessons directly but students can practice skills, take quick diagnostic assessments, and see their own progress over time.
CK-12 allows you to 'create' digital textbooks and lessons from materials and resources in science and math through their library of free online textbooks, videos, exercises, flashcards, and real world applications for over 5000 concepts across the content areas.
According to Wikipedia, Diigo is "a social bookmarking website that allows signed-up users to bookmark and tag Web pages. Additionally, it allows users to highlight any part of a webpage and attach sticky notes to specific highlights or to a whole page."
Resources, tools, and tips to teach and learn K-12 Chemistry online.
Software to create lessons with informative and interactive assessment activities.
Google Classroom (or Google Drive)
Obviously, Microsoft OneDrive is a good alternatives to Google Drive and useful here as well.
Trello and Redbooth are good alternatives to Slack as well, depending on your usage case/needs.
Collect, organize and share any web content. Create Web pages with texts, links, documents, videos, photos, presentations, etc.
Prezi
With a basic subscription and a profile that states you're an education professional, you get PreziNext and PreziVideo for free. You can also access designer templates, millions of reusable presentations, etc.
Free PowerPoint templates or Google Slides themes for education. You can find simple, formal and even fun templates.
Organize, plan, and center instruction. The collaborative nature and ease of use makes Sutori the perfect companion for student and teacher presentations.
Symbaloo is a cloud-based application that allows users to organize and categorize web links in the form of buttons, offering its PRO version to all educators at no cost.
Google Meet, Hangouts, and other alternatives to Zoom are available as well. Further, you can extend its functionality for schools with 20 Of The Best Zoom Tools For Teachers.
Video lesson creation software with lots of usable content.
A well-known tool across education, Kahoot is a game-based learning platform that seeks to bring engagement and fun to students at school or at home.
Loom makes it very simple to easily record and share video: capture your screen, record your front-facing camera, and narrate it all at once, then instantly share with students with a link.
Facilitates the design of engaging instructional content with various integration features.
Squigl
Content creation platform that transforms speech or text into animated videos.
Google App Hub for Distance Learning
This is a collection of Google for Education Technology Partner Apps.
Tools to create interactive images, videos, and other multimedia resources.
Professional Development Materials For Remote Teaching
In-Person PD, online workshops, and blended professional development support.
Online courses for teachers. TeachThought University is currently in closed beta but you can sign-up to be notified when it will be available for open beta testing here.
Zoom Video Tutorials
Seesaw Training and Professional Development
How To Use FlipGrid: A Guide For Teachers
Google for Education: Enabling Distance Learning with G Suite and Chrome Webinar
Techlearning.com special report online magazine: Tech & Learning: The Just In Time Playbook for Remote Learning.
Remote Teaching Tips from TeachThought
Remote Learning Tips For Parents Helping At Home
More Resources And Tools For Remote Teaching And Learning
30 Of The Best Tools For Remote Teaching And Learning
List of Free At-Home Learning Resources for Elementary Students
Swing Education shares a list of companies Offering Free Subscriptions and Content for Teachers & Parents Impacted by COVID-19
Educational technology companies offering free support and/or access to schools affected by COVID-19 closures